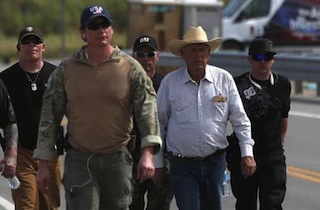 Cliven Bundy, the Nevada rancher who's been squaring off against the Bureau of Land Management over his two decades of illegal grazing on federal land, was quoted in the New York Times Wednesday evening giving his impressions of "the Negro."

Via the Times:
"I want to tell you one more thing I know about the Negro," he said. Mr. Bundy recalled driving past a public-housing project in North Las Vegas, "and in front of that government house the door was usually open and the older people and the kids — and there is always at least a half a dozen people sitting on the porch — they didn't have nothing to do. They didn't have nothing for their kids to do. They didn't have nothing for their young girls to do.

"And because they were basically on government subsidy, so now what do they do?" he asked. "They abort their young children, they put their young men in jail, because they never learned how to pick cotton. And I've often wondered, are they better off as slaves, picking cotton and having a family life and doing things, or are they better off under government subsidy? They didn't get no more freedom. They got less freedom."
He's here all week, folks. His Republican supporters may not be, however: after the comment, Senator Dean Heller (R-NV) condemned the remarks and Texas gubernatorial candidate Greg Abbott backed away from Bundy. (Senator Rand Paul's (R-KY) office said Paul was "unavailable for comment.")
UPDATE 8:51 a.m.: Paul denounced the comments in a statement: "His remarks on race are offensive and I wholeheartedly disagree with him," he said.
UPDATE 12:18 p.m.: MMfA posted video of the comments. Watch below:
[h/t Raw Story]
[Image via Jim Urquhart/Reuters]
——
>> Follow Evan McMurry (@evanmcmurry) on Twitter
Have a tip we should know? tips@mediaite.com