New AG Nominee Matthew Whitaker Said Mueller Probe Going 'Too Far' … in August … Last Year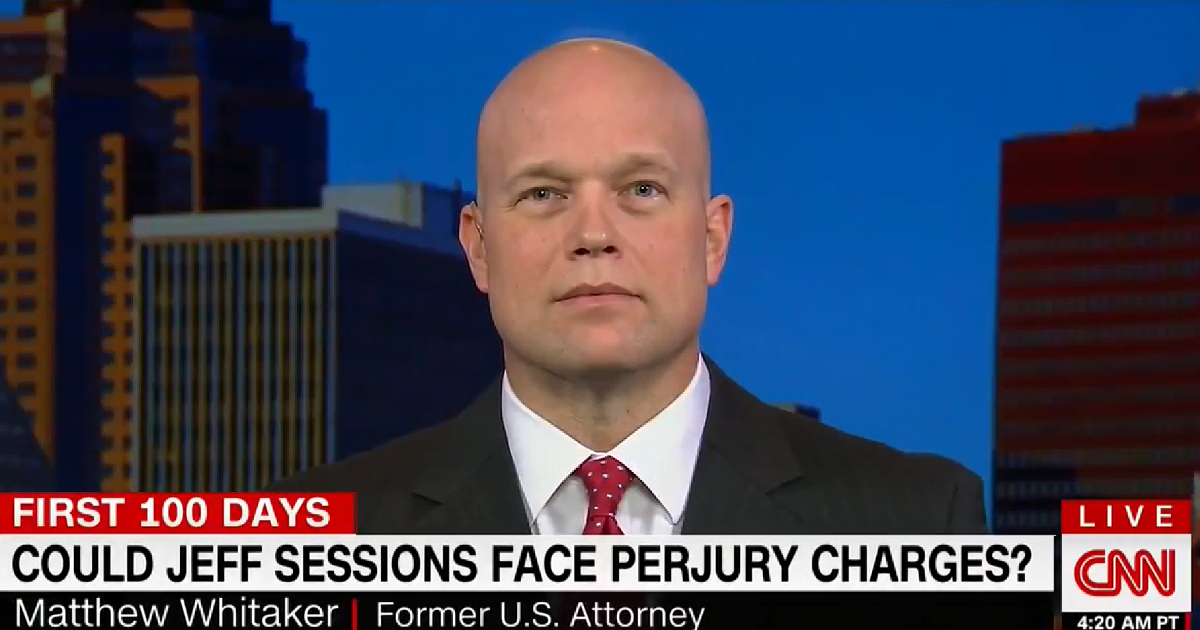 With ex-Attorney General Jeff Sessions getting the "you're fired" talk today, eyes in D.C. are now on Acting AG Matthew Whitaker, who is expected to be overseeing Special Counsel Robert Mueller's Russia investigation.
Whitaker was Sessions' Chief of Staff and, before that, an attorney with conservative watchdog group Foundation for Accountability and Civic Trust (FACT). He was also a U.S. Attorney in Iowa. In addition to those roles, he was previously a CNN legal commentator, and it was in that role that he wrote an op-ed last year criticizing the Russia investigation and the idea of looking into President Trump's financial ties to Russia.
"Mueller has come up to a red line in the Russia 2016 election-meddling investigation that he is dangerously close to crossing," wrote Whitaker in August of 2017.
"It does not take a lawyer or even a former federal prosecutor like myself to conclude that investigating Donald Trump's finances or his family's finances falls completely outside of the realm of his 2016 campaign and allegations that the campaign coordinated with the Russian government or anyone else," he said.
The issue of Trump's finances is hot again with the fall of Republican control in the House in Tuesday's midterm election. Unlike Sessions, Whitaker is not recused from any campaign-related issues, as he was not part of the Trump campaign.
Because of Sessions' recusal, the investigation has been under the oversight of Deputy Attorney General Rod Rosenstein, who has also come under fire from the Trump administration. In his op-ed, Whitaker mentioned Rosenstein's responsibilities several times.
"Any investigation into President Trump's finances or the finances of his family would require Mueller to return to Rod Rosenstein for additional authority under Mueller's appointment as special counsel," he wrote.
"If he were to continue to investigate the financial relationships without a broadened scope in his appointment, then this would raise serious concerns that the special counsel's investigation was a mere witch hunt," said Whitaker, invoking one of President Trump's themes. "If Mueller is indeed going down this path, Rosenstein should act to ensure the investigation is within its jurisdiction and within the authority of the original directive."
That may give some insight into how Whitaker will conduct oversight going forward.
[Featured image via screengrab]
—
Follow Caleb Howe (@CalebHowe) on Twitter
Have a tip we should know? tips@mediaite.com
Caleb Howe - Contributing Editor