New Panties Feature Trump's and Cruz's Faces For People With Periods to Bleed All Over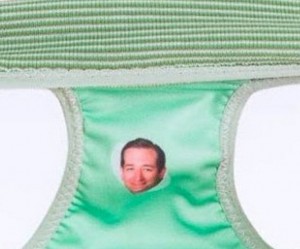 Judging by the time he tried to reference Megyn Kelly's menstrual cycle by mentioning "her wherever," presidential hopeful Donald Trump isn't all too familiar with the monthly goings-on of a woman's reproductive system. Now that orders of moisture-wicking panties with his face in the crotch have skyrocketed for one entrepreneur on Etsy, he will be and he won't have much of a choice.
In fact, "choice" is what business owner Sarah Palatnik had in mind when she launched her new line. She wrote this on the Cute Fruit Undies blog:
Bloody Marys Period Panties are the most fun way to have your period. They're comfy and super cute and feature two things no one else has: attachable heat packs to keep your hands free and your body happy when you have cramps, and Blood Dumpsters. What's a Blood Dumpster?! Just a U.S. politician who has tried in the past or who is currently trying to pass legislation that hinders women's reproductive rights, and in so doing has had his or her face wind up in the crotch of a pair of Bloody Mary undies, for YOU to bleed all over! As a bonus, $3 of every Bloody Marys sale goes to a Planned Parenthood located in the state governed by your chosen Blood Dumpster.
The other politicians receiving the Blood Dumpster treatment include Sarah Palin, Jeb Bush, Ted Cruz, and John Kasich. All of them have spoken out about defunding Planned Parenthood or making abortion inaccessible. Some of their soundbites have been perceived by opponents as not only sexist, but racist, too.
The panties themselves are made well, too, so this isn't just some gimmick (although yeah, it is a gimmick). The heating pad and moisture-wicking fabric are a nice touch. The brand states that the panties can be worn for eight to 12 hours before a change is recommended.
The retail price is $29.99 with the $3 donation to local Planned Parenthoods built into the price.
Palatnik's undies are not the first public fundraising attempt piggy-backing off of the anti-abortion stance of the candidates, but they might be the most viscerally shocking.
[image via Instagram]
For more from Lindsey, follow her on Twitter.
Have a tip we should know? tips@mediaite.com