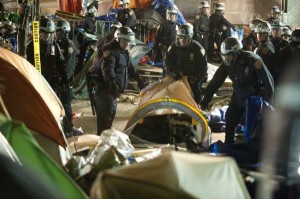 Now well into its third month, the Occupy Wall Street movement has achieved a worldwide cultural significance unseen since the Vietnam War, but according to a new survey by Public Policy Polling, the appeal of the protests seems to be wearing thin with Americans. Their favorability has only decreased slightly in the poll, from 35% in October to 33% now, but those opposed to OWS have increased from 36% to 45% in that time.
Detractors of the Occupiers will likely greet this poll as gleeful evidence that incidents of violence around the protests have begun to define the movement, while its proponents will blame news coverage that focuses on conflicts with police and caricatures, rather than the substance of the protests.
Public Policy Polling's Tom Jensen encompasses both of those views in his assessment:
I don't think the bad poll numbers for Occupy Wall Street reflect Americans being unconcerned with wealth inequality.  Polling we did in some key swing states earlier this year found overwhelming support for raising taxes on people who make over $150,000 a year. In late September we found that 73% of voters supported the 'Buffett rule' with only 16% opposed.  And in October we found that Senators resistant to raising taxes on those who make more than a million dollars a year could pay a price at the polls. I don't think any of that has changed- what the downturn in Occupy Wall Street's image suggests is that voters are seeing the movement as more about the 'Occupy' than the 'Wall Street.'  The controversy over the protests is starting to drown out the actual message.
The flatness of the movement's support, versus the rise in opposition, tells me that people who didn't have an opinion before are now making their minds up about OWS. That tells me that they weren't paying much attention before, and probably aren't paying that much attention now. What has changed is the ubiquity of OWS reporting, which has focused a lot on clashes with police, of late. To the disengaged mind, the human tendency to crave order and conformity easily overtakes the details. If there's a fight involving the police, the police must be right.
Whatever the reason, measuring the popularity of a protest movement sounds like a counter-intuitive activity to me. By definition, protests are designed to fight the power. If the majority of Americans were awake to what these protests signify, there would be no need for them.
Have a tip we should know? tips@mediaite.com