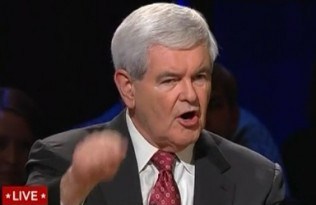 Current GOP front-runner Newt Gingrich attempted to clarify his role for Freddie Mac to radio host Laura Ingraham Wednesday. Was he, as some sources believe, essentially a lobbyist for one of the most vilified of government institutions?
"Former Freddie Mac officials," Ingraham began, "according to Bloomberg, Mr. Speaker, said that in 2006 you were asked to build bridges to Capitol Hill Republicans and develop an argument on behalf of Freddie Mac's public-private structure that would resonate with conservatives seeking to dismantle it. Is that accurate?"
"Well that may have been what they asked," answered Gingrich, "but that's not what I did and that's not what I've ever done. I was perfectly happy to work on the question of what do government-sponsored enterprises do. There's a long American history of government-sponsored enterprises. And I was happy to give them advice on how to present government-sponsored enterprises as a model."
He was adamant, however, that what did for Freddie Mac did not constitute lobbying. "But I just want to emphasize this," he said, "I did no lobbying, I did not reach out to Capitol Hill. I was not directly engaged in that way. I gave them advice on what they could do. But I'm not in the business of lobbying, period."
RELATED: Joe Scarborough: Newt's Going To Have To Explain Why He Got $300,000 From Freddie Mac
When asked by Ingraham what, exactly, his job was at the government mortgage agency, Gingrich replied that his role was more advisory than anything:
To offer strategic advice. We had set up the Gingrich Group, we've had contracts with a number of major American corporations, every single one of them we do no lobbying. We look at what they're doing, we offer them advice, we help them think through their problems. You get lots of different problems depending on what kind of company they are.
Moreover, Gingrich shared that he believes Freddie Mac should, ultimately, be broken up:
I would recommend as a matter of public policy that both Fannie Mae and Freddie Mac be broken up. I think they're too big, they're unmanageable, they've had huge problems, and they involved too big a risk. There is too big a financial exposure.
Have a listen to the interview, courtesy of The Laura Ingraham Show:
Have a tip we should know? tips@mediaite.com