New Report Says Murdoch Sons Playing 'Pivotal Role' in Getting Megyn Kelly to Stay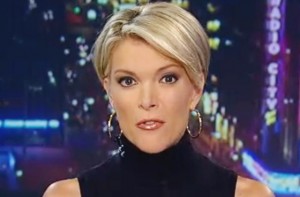 Another report giving us insight into the behind-the-scenes dealings at Fox News reveals just how committed James and Lachlan Murdoch are playing a "pivotal role" in getting Megyn Kelly to renew her contract before it's up next year.
Kelly's rising star has become one of Fox's big successes in the past year (even if it did come in part due to a war the Republican nominee for President of the United States waged on her for a disturbingly long period of time), and according to a new Vanity Fair piece, the Murdoch sons are very close with her:
They are all in their early-to-mid-40s, and can espouse views that can be out of lockstep with the network's hard-right narrative. Kelly, who spoke to lawyers from Paul, Weiss during their investigation, was indeed a pivotal figure in the Ailes ouster. And throughout it all, according to a person familiar with the matter, Kelly spoke multiple times with Murdoch family members. "Lachlan was the one who talked to her throughout this entire ordeal," this person told me earlier this summer. "James loves Megyn," this person continued. "He believes she's a big part of the future of this channel." According to a person close to Kelly, she has dined at the younger Murdoch's homes twice in the past several months.
And, of course, Kelly made waves when she encouraged women to speak out as investigators were looking into Roger Ailes. This report reveals that one of those women was none other than former Fox Newser and current CNN anchor Alisyn Camerota.
One source told Vanity Fair Camerota recalls one sexual harassment training session in which a "longtime Fox News personality" asked in a sarcastic manner, "What if every time you go into your boss's office, he tries to hug and kiss you? Would that be sexual harassment?"
The Murdochs, the report says, "appear pleased with Kelly's role in changing the culture of Fox News."
But, of course, there's still the elephant in the room to deal with. And it turns out that one very prominent female host at Fox was approached by Ailes' wife to help them out:
According to a person familiar with the exchange, at 6:45 A.M. on the morning after Carlson filed her lawsuit, Kimberly Guilfoyle, an Ailes loyalist and co-host of The Five, received a call from Ailes's wife, Beth, who asked her to help create public support for Roger among Fox News's personalities. According to multiple people who were contacted for the effort, Guilfoyle accepted the task.

But even Guilfoyle felt uncomfortable supporting Ailes to the extent that his wife requested. That same day, on July 7, according to this person familiar with the exchange, Beth Ailes also suggested to Guilfoyle that she read a statement of support for Ailes on her show and organize a group of Fox women, who likewise supported Ailes, to walk onto the set of The Five as Guilfoyle was reading the statement. Guilfoyle declined to do so.
Guilfoyle did speak to TVNewser about Ailes for an interview that was posted online on July 10th, saying her reaction was "total disbelief… I've known Roger Ailes for 15 years and I have been treated with the utmost professionalism and respect."
[image via screengrab]
— —
Follow Josh Feldman on Twitter: @feldmaniac
Have a tip we should know? tips@mediaite.com
Josh Feldman - Senior Editor