Alec Baldwin Calls Andrew Breitbart A 'Festering Boil On The Anus Of Public Discourse'
Alec Baldwin Calls Breitbart A 'Festering Boil On The Anus Of Public Discourse'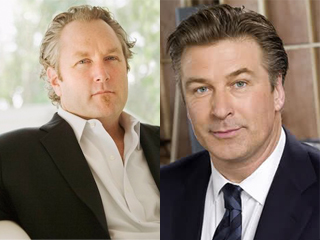 Ever since Andrew Breitbart reminded Occupy protesters at CPAC that their movement had a serious sexual harassment and rape problem, Breitbart and many in his company have been repeatedly making the point as a reminder to a public that has mostly forgotten that Occupy exists that they are not, in the aggregate, the most serious group of political dissenters. This has gotten the attention of some of the lower-tier fringe left, with the latest of these being noted political scholar Alec Baldwin, who added this veritable contribution to politics today: "Andrew Breitbart is a festering boil on the anus of public discourse."
RELATED: Andrew Breitbart And Crew Attack Keith Olbermann And Markos Moulitsas For Rape Denial
It's a classic, because it's the kind of insult that tells you nothing about the person being insulted and everything about the person lobbing it. The comment, which surely many will find witty and/or accurate, came about as a result of someone Scott DeFace (aka @cattyidiot) tweeting Baldwin for comment on Breitbart in relation to the Shirley Sherrod scandal– or rather, theorizing that the "rape rant" against the Occupy protesters was a stunt to distract from all that media attention Shirley Sherrod was getting in the news these days. That was all it took for Baldwin to deliver an answer that plays so well into Breitbart strategem one has to wonder whether Breitbart didn't pay him to tweet that himself. But no, this is what the man all the Democrats want to run for the mayorship of New York (now that Anthony Weiner is out of the running, of course) sounds like.
Breitbart took it in good humor and equally as maturely, responding, "There's NO REASON you should talk to me like I'm your daughter!" Baldwin responded to the counter by calling Breitbart a "witless, no-talent toad," which is a little less insulting than "festering boil," in that toads are sentient (and sometimes cute!) beings. Breitbart responded in kind, making a Kim Basinger joke, calling Baldwin "Shwetty," and filling up his Twitter stream with responses to Baldwin and his fans (and, occasionally, noting that Alec isn't representative of all Baldwins). The timeline response begins like this: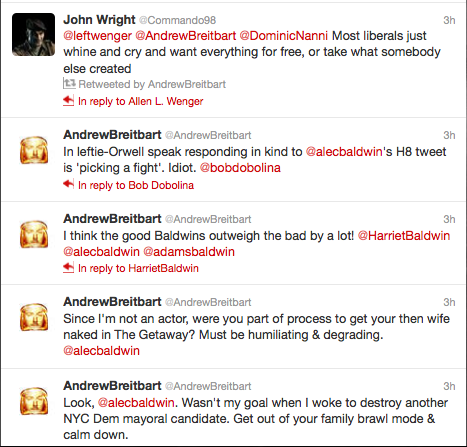 This continues for some time, and Alec Baldwin, who started the fight, finally tweets "OK, enough festering boils for this weekend." His fans, however, seem to still be attacking Breitbart, if the latter's timeline is any indication.
This is everything in the world of politics you missed while watching Whitney Houston's funeral, America. So feel free to just set the DVR back a few hours and watch it again.
Have a tip we should know? tips@mediaite.com