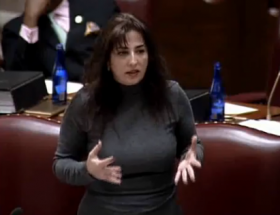 New York State Senator Diane Savino is the new viral hero of the gay and progressive world (at least), thanks to her impassioned, thoughtful, rational comments in support of New York's Marriage-Equlity bill last week, which failed with a vote of 24-38. On YouTube a clip of her speech is up to 296,215 views (this is a floor speech in the New York State Legislature, people) and there are numerous other clips of her speech on the site, adding to that total. Why? Because she's awesome.
Savino's great speech has garnered appreciative posts from around the web, including a must-read interview with New York's Daily Intel where she also reveals herself to be totally cool. (Savino represents Staten Island, and her eloquence, principle and the aforementioned coolness all made Staten Island a weird place to bash as low-class and racist on SNL this weekend). She is so great she deserves to be block-quoted:
Turn on the television. We have a wedding channel on cable TV devoted to the behavior of people on the way to the altar. They spend billions of dollars, behave in the most appalling way, all in an effort to be princess for a day. You don't have cable television? Put on network TV. We're giving away husbands on a game show. You can watch The Bachelor, where thirty desperate women will compete to marry a 40-year-old man who has never been able to maintain a decent relationship in his life…That's what we've done to marriage in America, where young women are socialized from the time they're five years old to think of being nothing but a bride. They plan every day what they'll wear, how they'll look, the invitations, the whole bit, they don't spend five minutes thinking about what it means to be a wife. People stand up there before god and man even in Senator Diaz's church, they swear to love honor and obey, they don't mean a word of it. So if there's anything wrong with the sanctity of marriage in America, it comes from those of us who have the privilege and the right and have abused it for decades.
Stick around, Senator Savino — I want to volunteer for your presidential campaign. Video below.

Related:
State Senator Diane Savino: Gay-Rights Defender, Karaoke Artist [Daily Intel]
Transcript: Diane Savino's Speech on Marriage [courtneymandryk.com]
Have a tip we should know? tips@mediaite.com