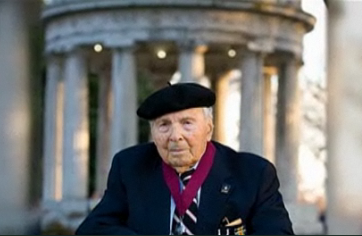 Drop everything you are doing and pay tribute to Frank Buckles, the last living World War I veteran and who seems to be the nation's oldest living veteran as well. He is 108 years old — and he is still fighting for what he believes in. And he went to Capitol Hill to do it.
The wheelchair-bound, 108-year-old Buckles came to Capitol Hill last Thursday to support Senate legislation that would designate a WWI memorial on the National Mall — apparently there is an old one that would be re-dedicated with federal funds, and officially designated the national monument. There is currently some controversy about this because of a push to get the "official" designation for the Liberty Memorial in Kansas City, Missouri. Also completely worthy — it has the National World War 1 museum — but why shouldn't the nation's capital have one too? Can't America honor the young, brave soldiers who fought a century ago for what this country has today in more than one place? 100,000 Americans died in WWI. I think two cities can memorialize that. Don't make an old man come to Washington to remind you of what he did!
Last year, Buckles visited the District of Columbia's World War I Memorial. In his wheelchair and bundled against the cold, he slowly toured the overgrown site and noted the names engraved along the gazebo's marble walls are only of those who hailed from the District of Columbia.

He also saw the rundown condition of the 1930s monument and became determined to symbolically lead a drive to restore the structure and support making it a national memorial.

"The memorial [on the Mall], it's an excellent idea!" he told lawmakers.

When he visited the District of Columbia memorial a year ago, Buckles said he did not expect to become the last man standing, the one left to represent Americans those who fought in World War I.

"I have to," he told CNN, "because I'm the last living member of Americans" who fought in what at the time was called The Great War.
The bill, sponsored by Sen. John Thune, clashes with Missouri Senator Claire McCaskill. I'm usually a big fan of McCaskill (love her on Tumblr!) but, her state's interests aside, it is really hard to argue with an 108-year-old man who fought in World War 1. How can that not be the deciding vote? Anyway, learn about him below. What an incredible thing to do at his age. He should be honored now, as well as for all he did then.
Last surviving World War I soldier, 108, storms US Congress [AFP]
Frank Buckles [Wikipedia]
Have a tip we should know? tips@mediaite.com