New York Times, Associated Press Refuse To Attend Meeting With Holder Unless It's On The Record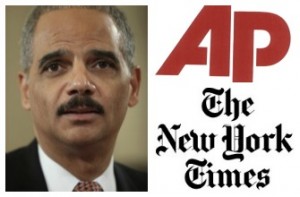 Eric Holder's planned meeting with journalists this week to go over Department of Justice guidelines on investigating leaks to journalists has already received a chilly reception by some media outlets. After weeks of scandal involving the Department of Justice targeting the AP and Fox News' James Rosen, some journalists are (to put it lightly) unhappy that such an important meeting will be completely off the record. The executive editors of the Associated Press and The New York Times are refusing to go unless it is on the record.
RELATED: Eric Holder To Meet With Journalists Amid Criticism Over Justice Department's Crackdown On Leaks
Times executive editor Jill Abramson told The Huffington Post that it "isn't appropriate" for them to attend an off-the-record meeting, emphasizing how the paper's Washington bureau is "aggressively covering the department's handling of leak investigations at this time."
Meanwhile, POLITICO obtained a statement from an AP spokesperson making it clear they will not attend an off-the-record meeting with the attorney general.
"We believe the meeting should be on the record and we have said that to the Attorney General's office. If it is on the record, AP Executive Editor Kathleen Carroll will attend. If it is not on the record, AP will not attend and instead will offer our views on how the regulations should be updated in an open letter. We would expect AP attorneys to be included in any planned meetings between the Attorney General's office and media lawyers on the legal specifics."
Both the Times and AP have been backed up by POLITICO's Roger Simon and National Journal's Ron Fournier, among others. One voice of dissent is Brad Woodhouse, the communications director for the national Democratic party, who tweeted this out earlier today.
Woodhouse's tweet was flagged by HotAir, and got roundly criticized by a number of journalists for the remark.
—–
Follow Josh Feldman on Twitter: @feldmaniac
Have a tip we should know? tips@mediaite.com
Josh Feldman - Senior Editor