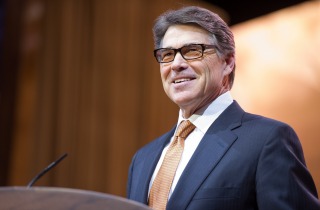 It's not exactly a glowing presidential endorsement but it's the New York Times and you take what you can get.
The paper ran what some readers might call a defense of Texas Gov. Rick Perry (R) who was indicted last weekend. But the defense came only after the Times called Perry the worst.
"Gov. Rick Perry of Texas is one of the least thoughtful and most damaging state leaders in America, having done great harm to immigrants, abortion clinics and people without health insurance during his 14 years in office," begins a Tuesday editorial. "But bad political judgment is not necessarily a felony, and the indictment handed up against him on Friday — given the facts so far — appears to be the product of an overzealous prosecution."
Perry was accused Saturday of "abusing the powers of his office by carrying out a threat to veto funding for state prosecutors investigating public corruption," according to the Associated Press.
The governor has reportedly been under investigation for month after he publicly vowed to veto $7.5 million for Travis County District Rosemary Lehmberg's public integrity unit. Perry threatened the veto after Lehmberg was arrested for drunk driving in 2013. Perry defended the veto and claimed innocence of any illegal activity in a press conference.
"Governors and presidents threaten vetoes and engage in horse-trading all the time to get what they want," the Times wrote, "but for that kind of political activity to become criminal requires far more evidence than has been revealed in the Perry case so far."
And, lest any readers get confused: "…Texas voters should be more furious at Mr. Perry for refusing to expand Medicaid, and for all the favors he has done for big donors, than for a budget veto."
[Image via Shutterstock]
— —
>> Follow Eddie Scarry (@eScarry) on Twitter
Have a tip we should know? tips@mediaite.com