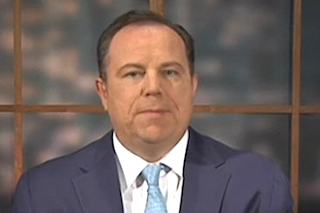 Last month, Christopher Ruddy, the editor-in-chief of conservative website Newsmax, surprised readers of The New Yorker when he said he thought Hillary Clinton would make a "good president." Now he's done it again with an op-ed published by the National Memo that calls on the right to stop blaming President Barack Obama for foreign policy issues surrounding Bowe Bergdahl's release and the current crisis in Iraq.
"'Blame Obama'" seems to be the mantra of the day, especially from the Republican side of the aisle, whether it be the Bergdahl-Taliban swap or the new crisis in Iraq," Ruddy writes, before laying out an ambiguously damning scenario likely to rile up the Republican base. It's only after a few paragraphs that Ruddy reveals he is talking about President Ronald Reagan's Iran-Contra scandal.
"None of the critics of the recent Bergdahl-Taliban deal authorized by Obama are suggesting anything as nefarious here," he writes. "What they are suggesting is bad judgment. And in that I agree — the president cut a bad deal. But I don't think it was an evil deal or a dishonest one in its intent."
Ruddy goes on to defend Obama's foreign policy credentials, particularly his dedication to the global war on terror launched by President George W. Bush after 9/11. While Obama "talked like a dove" during the 2008 campaign, Ruddy says he "ended up being quite a hawk."
On the current crisis in Iraq, while Obama's critics are trying to blame him for the situation there, Ruddy reminds readers that the president actually wanted to keep residual forces in that country but Iraqi President Nouri al-Maliki refused. "In the long run, we will not be able to sustain an independent Iraq without the use of permanent American forces on the ground," he writes. "The American public won't support that option."
Ruddy also has some advice for the GOP: "Republicans should remember if they complain about everything, they complain about nothing."
Read the full column at nationalmemo.com.
[Photo via screengrab]
— —
>> Follow Matt Wilstein (@TheMattWilstein) on Twitter
Have a tip we should know? tips@mediaite.com