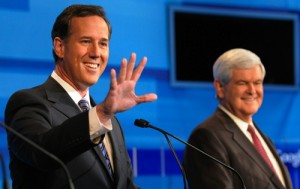 Now that Rick Santorum is out of the race, Mitt Romney's most formidable roadblock to winning the Republican nomination has been removed. However, Newt Gingrich is still running for president despite the almost-insurmountable odds against him. The Republican party and the media have pretty much accepted that the general election has started and the GOP is fully getting behind Romney, but Gingrich is calling for his former conservative rival to lend him his support to keep his message alive.
RELATED: The View Co-Hosts Wonder: "Why The Hell Is Newt Gingrich Still In The Race?"
Around the time when Santorum finally dropped out of the race, one of Santorum's campaign advisors told CNN that he would end up supporting Romney in the general election. But that's not stopping Newt Gingrich from dropping hints that he hopes Santorum will join him in an alliance before Romney's nomination is official.
Gingrich told reporters yesterday that he had a "nice chat" with Santorum on Friday. He released a public statement hoping to get Santorum's supporters over to his team rather than just giving in to the Romney, the Once and Future Nominee. But Gingrich would also like Santorum himself to speak out in favor of his campaign.
"He has to do what he thinks is right for his family, and if he has campaign debt, what he has to do to help pay his campaign debt. I'm not going to put any pressure on Rick, but I'd love his endorsement."
Gingrich has acknowledged many times in the past week that Romney will most likely be the party's nominee, but retains a small piece of hope that he might be able to pull off something stunning before the RNC convention in Florida. Gingrich suggested that the Republican party needs not only a strongly conservative nominee, but "somebody who can debate [Obama] successfully."
RELATED: Mark Levin Reacts To Rick Santorum's Campaign Suspension: 'The Republican Establishment Has Won'
Gingrich also recently rented out his donor list because they need more money to keep the operation going. Gingrich boasted that he received online donations from over 6,000 people in just the past week.
Have a tip we should know? tips@mediaite.com
Josh Feldman - Senior Editor