Top NRA Official Accuses Media Of Engaging In 'Sensational Reporting' In Trayvon Martin Case
NRA Official Accuses Media Of Engaging In 'Sensational Reporting' In Trayvon Case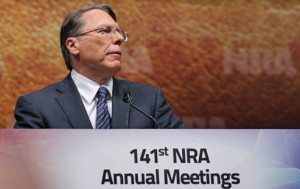 The National Rifle Association has mostly stayed out of the national conversation on the killing of Trayvon Martin, the charges filed against George Zimmerman, and whether the "stand your ground" law is effective or not. But during the group's annual meeting in Missouri this weekend, NRA Executive Vice President Wayne LaPierre criticized the media for what he calls its sensationalist coverage of the Martin story and how it's acted as a "national disgrace" in jumping to conclusions about what happened on the night of Martin's death.
RELATED: NRA Introduces New Hoodies With Gun Pockets In Online Store
LaPierre had initially refrained from weighing in on the case because he didn't want to comment before "learn[ing] all the facts." And his diatribe against the media yesterday was for that precise reason.
During the NRA gathering, he called the news media "a national disgrace." LaPierre said violent crime is an everyday fact of life in every American city.

"But the media, they don't care," LaPierre said. "Everyday victims aren't celebrities. They don't draw ratings, don't draw sponsors. But sensational reporting from Florida does. In the aftermath of one of Florida's many daily tragedies, my phone has been ringing off the hook" with calls from reporters.
The president of the Brady Campaign to Prevent Gun Violence tried to link George Zimmerman to the NRA, saying that the Florida law creates a "paranoid mentality" borne out of the same mindset of the NRA. The group's executive director, Chris Cox, defended "stand your ground" by pointing to an example of an Oklahoma mother who was with her child when an armed intruder with a hunting knife broke into the house, and in self-defense the mother shot and killed the intruder.
Have a tip we should know? tips@mediaite.com
Josh Feldman - Senior Editor