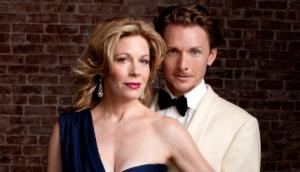 "She's got gaps, and I got gaps, and between the two of us, our gaps meet and we sort of fill each other in," said Rocky Balboa.
***
As Broadway's fall season descends on us – and it is a season almost half way full of revivals – I would like to propose that you return or go for the first time to the unique Pulitzer Prize-winning rock musical "Next to Normal." And I do mean all of you, not just those who dig rock.
I returned because of my devotion to Broadway's golden girl, Marin Mazzie, who has replaced Tony winner Alice Ripley in the show and who co-stars with the charming Jason Danieley. (Marin has been Tony-nominated three times for her roles in "Kiss Me, Kate," "Ragtime" and "Passion.") This seductive pair, married in real life, offer entirely different interpretations to their roles in one of the bravest and most dramatic of musicals.

"Next to Normal" is now mesmerizing with these two wonder-stars bringing humanity and reality to the audience. Reaction night after night is incredibly emotional. One critic called the pair "noble."
The evening I saw the show, a young woman sitting next to me had tears flowing down her face. At intermission I asked why and she answered, "It's so like my family. My mother is bipolar and I'm crying because I'm touched by the true emotions, not because it's sad." An incredible standing ovation happens after every performance, bringing tears to the eye.
***
So I'm sitting in the sunshine at Joe Allen one Tuesday at lunch (Yes, there's sun in Joe's – go see for yourself) waiting for Broadway's only married co-stars. They breeze in, all smiles and happiness. Marin mutters, "Oh, I've never been here during the day. It's so different."
I sip my pinot grigio as my gorgeous stars, who must perform that evening, order iced teas. Jason states, "Our schedule is so unusual for Broadway. We are 'dark' on Wednesdays, and play every other day, which means we don't get to go to our house in the country as much as we would like." We chat about Broadway's past and present. So what's your favorite show? I ask. "Oh, my gosh. Oh, you know what? It's got to be this one we're in, 'Next to Normal.' "
"Just playing off each other is so exciting," Marin takes over saying. "There are operatic qualities. I get to use part of my range, which I love. It's fun." "It's not just one rock song after another," Jason comments. "Yes," chimes Marin.

Liz Smith's column can be read in its entirety at Wowowow and is excerpted here under an agreement between Mediaite and Wowowow.
Have a tip we should know? [email protected]