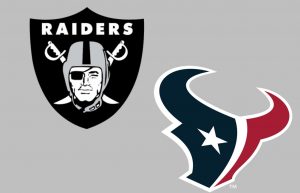 Well, at 12-4 the Oakland Raiders managed to piece together one of the most impressive regular seasons in the National Football League this year, and yet this is far from the circumstance they thought they were going to find themselves in entering the playoffs.
After starting quarterback Derek Carr went down with a broken leg — and with backup Matt McGloin's own health in uncertain — it is increasingly looking like rookie Connor Cook out of Michigan State will make his first career start in this crucial playoff game with the hopes of an eager franchise on his back. Luckily for him, he's got an offensive line responsible for league-low 8 sacks and a highly-touted running game.
Still, they'll need all the help they get as they head into NRG Stadium in Houston on Saturday for their showdown against against the Texans, who finished the regular season at 9-7. The Texans have quarterback issues of their own. Brock Osweiler gets the call for Houston after being benched in Week 17. The Texans will look to rely on a defense led by Jadaveon Clowney to help carry them to victory.
Oakland won the regular season bout between the two clubs 27-20 in Mexico City, but that was with, of course, a healthy Carr who threw for 3,937 yards and 28 touchdowns this season pre-injury.
Kickoff for is set for 4:30 p.m. ET. Sean McDonough and Jon Gruden have the call. You can catch the action live on ESPN or ABC, which will simulcast the game, or stream it online free with a cable subscription via WatchESPN on your pc, phone, or tablet. The NFL Mobile app offers another way to watch on your phone or tablet. Both apps can be downloaded from the Apple App Store, Google Play, and the Windows Store.
Have a tip we should know? [email protected]