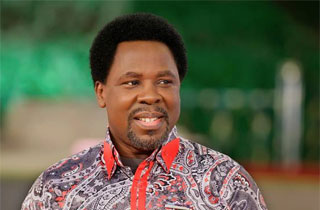 One of Africa's most charismatic preachers-slash-prophets, evangelical Christian T.B. Joshua, has gone into full defensive mode, blaming a mysterious plane for killing 70 people when his church collapsed.
Joshua, the head of the influential Synagogue, Church of All Nations (SCOAN) claims that he can cure anything from AIDS to cancer, and recently sent 4,000 bottles of "holy water" to Sierra Leone to fight the Ebola epidemic. (He also claimed that he gestated in his mother's womb for 15 months and predicted the death of Michael Jackson.)
But to explain the building's collapse, he's going full Truther, suggesting, alternatively, that either Islamic extremists were responsible, or that planes flew into his church. Reports the AP:
To bolster allegations of an attack on the building that collapsed, Joshua's television station, Emmanuel TV, showed security camera video of what it says was a "strange aircraft" flying low over the building four times before the structure plunges into the ground in seconds, startling pedestrians in the foreground.
The TB Joshua Ministries Facebook page has more photos of the mysterious plane, and, well, the evidence speaks for itself.
Local officials have a much simpler answer: that the church's foundation could not support the two extra floors illegally added to the four-story building. "We need to look at whether, because of the number of people needing to be accommodated, they added more floors without looking at the foundation," an inspector told the AP.
Most of the victims hail from South Africa, and their relatives say they're not getting any answers from representatives of SCOAN.
[AP]
[Image via TB Joshua Ministries]
—
>> Follow Tina Nguyen (@Tina_Nguyen) on Twitter
Have a tip we should know? tips@mediaite.com