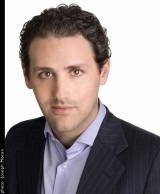 Welcome to the business magazine of tomorrow! BusinessWeek, the $5 million mag recently acquired by the pomegranate-providing Bloomberg L.P., has announced that the company has selected Josh Tyrangiel, a 37-year-old non-business journalist, to run the revamped title. With the acquisition set to close by the end of the year, the selection of an editor-in-chief is a highly symbolic and indicative move.
From a posting on the BusinessWeek website:
By selecting the 37-year-old Tyrangiel who is not a business journalist per se, Bloomberg clearly wants a leader for BusinessWeek who is not only a highly-regarded editor but someone who has demonstrated he knows how to reach a wider array of readers in both print and online. A major reason Bloomberg LP executives pursued BusinessWeek was to reach a broader audience beyond Wall Street and the professional investor communities.

"I saw Josh in a number of leadership positions as he took on increasing responsibilities at TIME," says Norman Pearlstine, Bloomberg's chief content officer and a former editor-in-chief of Time Inc., Time's parent.
The latter quote might tip the Bloomberg hand a bit, as Pearlstine, the head of Bloomberg's editorial push, as touched on in this weekend's New York Times feature, used to run Time Inc. This move could be a preview of things to come — that is, the poaching of struggling Time's top talent by the cash-fluent Bloomberg as they attempt to fortify their editorial team.
A candid BusinessWeek detailed how badly Time Inc. wanted to hold on to Tyrangiel in their announcement of his hiring:
In some media circles, Tyrangiel was considered a leading candidate to succeed Time managing editor Richard Stengel. According to sources, Time Warner CEO Jeff Bewkes was so impressed with Tyrangiel that he tried to recruit him to be come the editor of CNN.com, the online arm of the 24-hour cable news channel, but Time Inc.'s current editor-in-chief John Huey intervened and convinced Tyrangiel to stay at Time with the promise that he might one day succeed Stengel.
Rivalry on! Read the rest of the announcement here.
Have a tip we should know? tips@mediaite.com