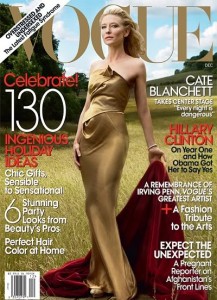 During times of uncertainty — the economic downturn, the forever impending impact of global warming — we search for consistency in something, anything. And what could be more consistent than beauty in an Annie Leibovitz Vogue cover shot. Right? Wrong.
Since the September issue of Vogue a few things have become clear. One, someone in the office likes blondes — September was Charlize Theron, October Michelle Williams, November's cover featured the stars of the upcoming movie Nine, half of which are blondes, and this month, a platinum Cate Blanchett reigns as cover girl.
Two, a certain design team has gotten lazy and unimaginative. Last month, readers wondered who at the Vogue offices got a little too photoshop happy? The leading ladies looked as though they were copy and pasted onto a scenic, yet badly lit, desktop background. Cover headlines include "Florals and Plaids for the Country…" In the words of the great Miranda Priestly, "Floral, for spring. Groundbreaking…" Florals and plaids in the country? This is what we are getting from the fashion bible that once was Vogue?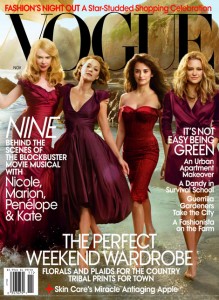 The December issue seems to be equally problematic. Yet another desktop background inspired setting, this time a field, features Cate Blanchett who stands, statuesque in an uninspired gold Donna Karen gown with a randomly held red velvet throw. All we need is an overly tanned, muscular Fabio, hair flowing in the wind (which, undoubtedly would be digitally enhanced for dramatization) and we would have the cover for Danielle Steel's next bestseller. Thankfully, though, the cover promises that by the end of flipping through the issue, readers will know all about "Perfect Hair Color at Home." Move aside Frederick Fekkai, Anna may now pushing Clairol's Nice and Easy.
It seems as though Vogue's masthead, especially in the design department, may need a bit of a lift. Let's get the girls out of the computer and onto the page. Someone needs to bring some drama back, some risk, something aspirational and interesting. Danko Steiner (Design Director), sit down with Stephen Male (Art Director) and Martin Hoops (Senior Designer) and have a talk. Make it work.
Check out the four most recent, disappointing Vogue covers in the gallery below!
Have a tip we should know? tips@mediaite.com