NY Post Columnist: Cosby's Actions 'Not Rapes, but High Pressured Seductions'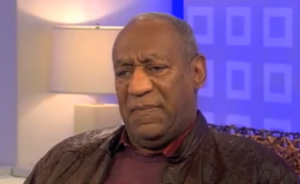 Former Cosby Show actors, a sitting American president, a presidential hopeful, the Smithsonian — these and many, many more have felt the urge (or push) to comment on the numerous rape allegations levied against comedian Bill Cosby. Now it's time to add the inevitable-but-unwanted vote of New York Post columnist Andrea Peyser.
In a late night column on Thursday titled "I have my doubts Bill Cosby's a rapist," Peyser does precisely what you'd think after reading that headline — she defends Cosby. She doesn't necessarily do a complete 180, per se, and argue that everything about the allegations against the comedian are demonstrably false. Instead, Peyser tries her hand at wordplay while trying in vain to make the "boys will be boys" argument a sophisticated one.
Here's how Peyser beings her column:
Bill Cosby is a lousy husband and a possible sex addict. But is he a rapist?

I have my doubts.

Is Cosby, 78, so diabolically creepy that he secretly slipped Quaaludes into the mouths of his alleged victims, as even President Obama suggests? Perhaps.

But I'm starting to think that Cosby's "crimes'' were not rapes, but high-pressure seductions.
There's a lot to unpack here. However, it's not the kind of intentional "there's a lot to digest here" that writers purposefully include in their work. It's more of a series of mistakes — two, to be exact.
The first is Peyser's use of scare quotes around the word "crimes," and the response is obvious. Drugging a person and having sex with him or her is illegal. Of course, there's the supposed legal loophole regarding the knowledgeable and willful acceptance of said drugs, which Peyser goes on to suggest could be the case:
I wonder if some, if not most (or maybe all?), of the dozens of women who claim Cosby attempted or completed sexual assaults against them, dating back as far as the 1960s, swallowed drugs willingly before the encounters.
Peyser's wondering leads her to a surprisingly-related tangent about the history of rape in the United States and New York's recent "Enough is Enough" legislation:
Most of Cosby's illicit activities would be considered sex crimes, according to today's feminist-written definition of rape. Off with his head, and other body parts!

But not long ago, society looked at rape differently. If a woman, and this was mainly about women, knowingly took drugs or drank alcohol before engaging in sex, and then for whatever reason — shame, guilt or seeing Prince Charming turn into a frog by the light of day — that lady regretted her tacit agreement to engage in sexual activity, she would just have to live with her stupid decision.

That has changed. Following California's lead, New York Gov. Andrew Cuomo earlier this year signed the so-called Enough Is Enough law to combat sexual assault on public and private college and university campuses. Among other things, the measure states that anyone on a New York state campus, of any gender, who engages in sex while drunk, drugged — even unconscious or asleep — is incapable of giving consent. This means that someone who has sex with a zonked person, even if that partner deliberately got high or drunk to get in the mood, runs the risk of being accused of a sex crime.
Peyser seemingly wants to render the "boys will be boys" argument acceptable, and even quotes mostly women throughout the article to do so. Yet she actually lends more credence to the recent legislation with her description of it. That is, if you can ignore the snarky use of "feminist-written."
But all of this delays the main event, which is the phrasal coinage, "high-pressure seductions." What, pray tell, is this supposed to be? I mean, what the hell is a "high-pressure seduction"? Is Peyser's thinking contextual, like when a person tries to seduce another during a very important business meeting? Or is it literal, as in the amorous advances of astronauts aboard the International Space Station?
Frankly, it's a smoke screen. A small bin of verbal garbage meant to get around an otherwise nasty four-letter word that's being used in conjunction with Cosby's name. And while Peyser is right to point out that Cosby hasn't been charge with a crime, and that he and his camp — including his wife and manage Camille Cosby — maintain his innocence, it still falls flat.
Rape by any other name is still rape. It's still wrong, and it's still illegal.
[h/t New York Post]
[Image via screengrab]
— —
>> Follow Andrew Husband (@AndrewHusband) on Twitter
Have a tip we should know? tips@mediaite.com