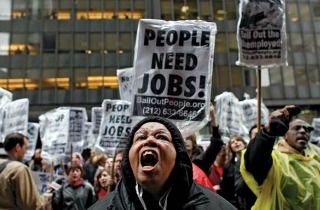 On Wednesday, the New York Times editorial board echoed the White House's framing of a damning Congressional Budget Office report measuring the economic effects of the Affordable Care Act. The report found that the ACA's benefits and the taxes associated with it would create disincentives to work so that, by 2024, the equivalent of 2.5 million people will have left the workforce and taken their productivity with them. The Times joined the White House in calling this condition a "good thing."

"The Congressional Budget Office estimated on Tuesday that the Affordable Care Act will reduce the number of full-time workers by 2.5 million over the next decade," the Times editorial began. "That is mostly a good thing, a liberating result of the law."
"Of course, Republicans immediately tried to brand the findings as 'devastating' and stark evidence of President Obama's health care reform as a failure and a job killer. It is no such thing."
The Times is right here; it's not a labor demand killer, it's a labor supply killer. "The new law will free people, young and old, to pursue careers or retirement without having to worry about health coverage," the editorial board crowed.
RELATED: Observer: NY Times Staffers in 'Semi-Open Revolt' Against Editorial Section
"Workers can seek positions they are most qualified for and will no longer need to feel locked into a job they don't like because they need insurance for themselves or their families," they added. "It is hard to view this as any kind of disaster."
The freedom not to work, and to be supported by those who do, is not a freedom the founders would have recognized.
Meanwhile, an exhaustively reported exposé published in the New York Observer reveals that a slew of Times staffers are in "near-open revolt" against the paper's editorial section. Given the editorial board's backing of spin jobs like these, entirely in service to the White House, it's no wonder.
[Photo via Jason DeCrow/AP]
— —
> >Follow Noah Rothman (@NoahCRothman) on Twitter
Have a tip we should know? tips@mediaite.com