NY Times Divides NYPD and De Blasio Further, Accuses Cops of Engaging in 'Self-Pity'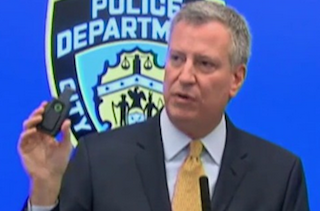 "But none of those grievances can justify the snarling sense of victimhood that seems to be motivating the anti-de Blasio campaign — the belief that the department is never wrong, that it never needs redirection or reform, only reverence."
–The New York Times, December 30, 2014.
Yup…how dare the NYPD play the role of victim after two of its officers are executed in broad daylight while sitting it their patrol car in Brooklyn. The Old Gray Lady's beef comes after some in the force actually had the audacity to protest Mayor Bill de Blasio's rhetoric at the height of protests surrounding the highly-questionable verdict by a grand jury in the Eric Garner case. Of course, these officers were simply exercising a right the Times usually has the pom-poms out in full force for: The right to protest. But the paper only seems to agree with protesting only when it agrees with its narrative.
Eric Garner or Michael Brown protesters: Peaceful, justice-seeking.
NYPD protesters: Snarly. Passive-aggressive.
So is this column guilty of cherry-picking one sentence out of long op-ed? OK, since some of you likely are asking…here's a few more choice words from a paper some still consider to be the apex of journalism:
"With these acts of passive-aggressive contempt and self-pity, many New York police officers, led by their union, are squandering the department's credibility, defacing its reputation, shredding its hard-earned respect."
And…
"They (the NYPD) have taken the most grave and solemn of civic moments — a funeral of a fallen colleague — and hijacked it for their own petty look-at-us gesture. In doing so, they also turned their backs on Mr. Ramos's widow and her two young sons, and others in that grief-struck family."
Of course, the Times seemingly takes no issue with a Democratic Mayor who shared his parenting advice to his biracial son at the height of the Garner protests when the city was on edge and in need of calm, stating that he regularly instructed his son to fear the police force.
"I've had to worry over the years. Chirlane's (his wife) had to worry. Is Dante (his son) safe each night? There are so many families in this city who feel that each and every night. Is my child safe?… Are they safe from the very people they want to have faith in as their protectors?"
From The New York Times' perspective, Mr. de Blasio doesn't deserve to be shunned by the very police force that protects him, his family and millions of New Yorkers and therefore shares no responsibility for the tension he created prior to the Brooklyn executions when he decided to pick a side, just like the paper is doing now. Remember when a large group of Garner protesters were recorded by a local NBC crew chanting, "What do we want? Dead cops! When do we want it? Now!" Where exactly was Mr. de Blasio or the Times stating without ambiguity or hesitation that rhetoric like was dangerous and should never be condoned?
How about when the Mayor used the word "allegedly'' to characterize attacks on two NYPD lieutenants during the protests? Quoting de Blasio, the punching and kicking of two officers was simply "an incident . . . in which a small group of protesters allegedly assaulted some members of the NYPD." Again, the Times fails to mention any of that in its myopic attack of New York's Finest.
Of course, this doesn't mean the NYPD–and particularly PBA President Patrick Lynch, are blameless here. Mr. Lynch stating the Mayor had "blood on his hands" following the deaths of those two officers was reckless and inexcusable despite emotions being high. But to not hold de Blasio accountable in originally creating this strife while saying the NYPD is engaging in "disgraceful acts" in turning their backs on said mayor is only making the prospect of healing even more impossible to imagine.
In a time when a city needs unity more than ever, the paper of record takes sides. Nothing new there: The Times hasn't endorsed a Republican candidate since Eisenhower (1956). That's right… even in 1984, when Ronald Reagan was busy winning 49 of 50 states, including deep-blue New York, the NYT still somehow found a way to endorse Walter Mondale. So it's easy to see why they would run to protect the most inept mayor the Big Apple has seen in decades. For the paper, it's always about putting party over everything else, even if it means attacking a police force in mourning after losing two of its own in the most unsettling terms possible.
Bill de Blasio is a man with few allies, and rightly so. He won with 72 percent of the vote before taking office last January. His approval has dropped 25 points since (according to polling taken before the deaths of Officers Ramos and Liu), which is likely a record in a city where Democrats outnumber Republicans 6-to-1.
So mark down the date: December 30, 2014.
That's when the mayor gained at least one ally against those self-pitying members of the NYPD: The New York Times, whose timing is about as poor as its moral compass.
>>Follow Joe Concha on Twitter @JoeConchaTV
Have a tip we should know? tips@mediaite.com