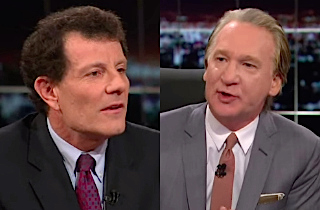 When Bill Maher had his blow-out showdown with Ben Affleck over radical Islam last fall, The New York Times' Nicholas Kristof also happened to be sitting on the Real Time panel. In an interview with HuffPost Live this week, the columnist reflected on Maher's comments then and since and concluded there's something dangerous about the host's attempts to "other-ize" the Muslim community.
Asked if he thinks the type of "bigotry" displayed by Maher during that show has gotten worse since the attacks on Charlie Hebdo, Kristof said, "Yeah, frankly I do."
"It's hard to push back after something like the Charlie Hebdo attacks, but I've traveled these areaa, and I know that kind of violence isn't representative of 1.6 billion Muslim adherents," he said. "Humans are complex. They're varied. There's an entire range of people. There are good Americans and bad Americans, and that we kind of understand, and the same is true of the Muslim community or any other faith community."
"Whether it were a comedian or a politician or a journalist, we have to be wary of broad-brushed critiques in ways that can cause great damage to people," Kristof continued. "There's a real risk that we 'other-ize' people," he added, whether on the basis of race, gender, legal status or religion.
Kristof argued that men are eight times more likely than women to commit a violent act, but we do not, as a society, paint all men as violent.
"There is no doubt that there is a real problem with extremism with Islam," he concluded. "That is a real threat and the Islamic community has to fight it and we can do a better job from the outside of pushing back at it. But that doesn't mean we should be tarring all 1.6 billion Muslims with that kind of extremism any more than we should blame all men because there is a problem of some violent men."
Watch video below, via HuffPost Live:
And watch the full Real Time with Bill Maher clip below, via HBO:
[Photo via screengrab]
— —
>> Follow Matt Wilstein (@TheMattWilstein) on Twitter
Have a tip we should know? tips@mediaite.com