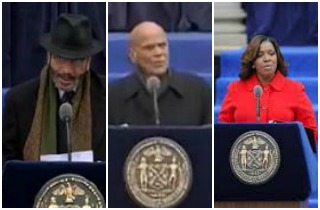 The New York Times editorial board on Friday took a swipe at many of the speakers who took the podium at Wednesday's inauguration of Mayor Bill de Blasio. The Times called many of the speakers who invoked themes of race and class in their attempt to echo the populist themes expressed during de Blasio's campaign both "graceless" and "smug."

The Times editorial praised the inclusive tone set by both de Blasio and former President Bill Clinton on Wednesday. "Too bad the speakers on stage with him didn't get the unity part, marring the event with backward-looking speeches both graceless and smug," the editorial board lamented.
They took a swing at New York City Public Advocate Letitia James who launched into an attack on former Mayor Mike Bloomberg at the podium while holding the hand of Dasani, a homeless girl profiled in the Times in 2013.
RELATED: Harry Belafonte Decries Racial Inequality in 'Dickensian' New York City at DeBlasio's Inauguration
"So did the pastor whose invocation likened New York to a 'plantation,' and Harry Belafonte, who strangely laid the problem of America's crowded prisons at the feet of the former mayor, an utterly bogus claim, while saying Mr. Bloomberg shared responsibility for the nation's 'deeply Dickensian justice system,'" the Times continued.
The editorial board noted that, while Bloomberg had "mistakes and failures," he was not "a cartoon Gilded Age villain." The Times editorial closes by praising the "ambitious agenda" de Blasio discussed during his campaign.
[Photo via screen grab]
— —
> >Follow Noah Rothman (@NoahCRothman) on Twitter
Have a tip we should know? tips@mediaite.com