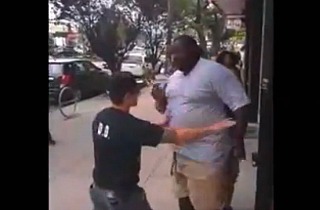 A New York State judge has ruled against multiple requests to disclose the proceedings of the grand jury investigation into the death of Eric Garner at the hands of NYPD officer Daniel Pantaleo, whose non-indictment sparked nationwide protests against the police treatment of African-American men.
In the ruling, released today, Judge William E. Gannet said that none of the entities which filed to disclose the minutes — the Public Advocate's office, the Legal Aid Society, the New York Civil Liberties Union, the NAACP, and the New York Post — had demonstrated a "compelling and particularized need" to release the records to the public. Dan Donovan, the Staten Island District Attorney, argued against the release of those records, though he did argue for the release of a summary of the report.
In this case, wrote Gannet, these entities needed to prove a "compelling and particularized need" to override the state's constitutional requirement to keep grand jury proceedings secret. In certain cases, a New York state court can override this law, but only if the parties asking for the release of the proceedings can "demonstrate that [they have] a greater stake in the disclosure than does any other citizen — even one critical of the grand jury's decision…simply put, what would the movant do with the minutes if the movant got them?"
According to Gannet, none of the movants gave a compelling reason to release the grand jury proceedings, arguing that to do so using their separate arguments would have gone against the precedents set by New York's courts.
And of the New York Post's request, Garnett simply said:
…the entity which owns the New York Post has also failed to demonstrate a "compelling and particularized need" for the minutes. The newspaper would merely publish all, or part of, the minutes and might use them as grist for its editorial mill.

The Court has not found any case in which the testimony and evidence adduced in a grand jury has been disseminated to the public by the media.

Journalistic curiosity is simply not a legally cognizable need under the law.
In a one-sentence statement, Donovan said that "we respect and will adhere to Judge Garnett's well-reasoned decision."
The full decision can be read here.
[h/t Andrew Peng]
[Image via screenshot]
—
>> Follow Tina Nguyen (@Tina_Nguyen) on Twitter
Have a tip we should know? tips@mediaite.com