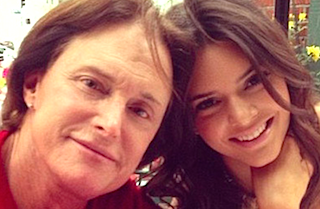 Us Weekly has retracted its story about Kendall Jenner's reaction to her father, Bruce Jenner's reported gender transition one day after the 19-year-old reality star claimed on Twitter that the magazine printed fabricated quotes from her. Though the reporter still stands by the veracity of the piece, Jenner's objections seem to have been enough to force the magazine's hand.
Shortly after the original post went up on Wednesday, Jenner tweeted the following:
how is it legal for someone to "quote" someone and publish it if in fact you never said what was quoted.

— Kendall Jenner (@KendallJenner) March 18, 2015
Shame on US Weekly for making up quotes. I NEVER said those things. I never spoke to them.

— Kendall Jenner (@KendallJenner) March 18, 2015
If you try to visit the story in question, in which Jenner reportedly told the magazine, "I will always love my dad, whether he's a man or a woman," you will see this error message:

Thursday afternoon, Us Weekly posted a retraction on its website. It reads:
On Wednesday, March 18, Us Weekly published on UsMagazine.com an interview with model and reality star Kendall Jenner entitled "Kendall Jenner Breaks Silence on Bruce Jenner's Transition: 'I Will Always Love My Dad.'" The interview was allegedly conducted by an independent freelance journalist at the Saturday, March 14, taping of Comedy Central's roast of Justin Bieber in Los Angeles. When Ms. Jenner denied, via Twitter, that the interview took place, Us Weekly immediately reached out to the freelance reporter. He stood by the interview, and continues to maintain that the quotes are accurate. However, after attempting to reconfirm his account, editors of Us have concerns about the veracity of this interview and the circumstances under which it was obtained. We would like to retract the story entirely and have removed it from our website. We sincerely apologize to Ms. Jenner and her family.
Essentially, it's the word of Kendall Jenner, who, as part of the Kardashian clan helps keep celebrity-based magazines like Us Weekly in business, against that of an anonymous freelance reporter. Somehow it's not entirely surprisingly how the magazine chose to handle the situation.
[Photo via Instagram]
— —
>> Follow Matt Wilstein (@TheMattWilstein) on Twitter
Have a tip we should know? tips@mediaite.com