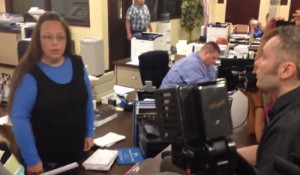 The Oath Keepers volunteer militia has offered its support to Rowan County Clerk Kim Davis in Kentucky.
According to Raw Story, founder Stewart Rhodes discussed the proposition and possible planning of heading to Kentucky to offer the militia's services to Davis during a conference call. Former Kentucky sheriff Denny Peyman, Missouri member John Karriman, and West Virginia member Allen Landieri also joined in during the 15-minute conversation.
"People should consider her under our protection," said Rhodes. "We'll make sure that our people are keeping a close eye on the situation and we're going have boots on the ground to keep watch regardless, because this judge needs to understand that he's not going be able to just go grab this lady whenever he feels like it."
The judge in question is U.S. District Judge David Bunning, who originally found Davis in contempt of court and jailed her. Bunning subsequently released Davis, but Rhodes and his fellow Oath Keeper members aren't impressed with his actions.
In a statement released on the group's official website, Rhodes believes that Bunning "Bunning grossly overstepped his bounds and violated Mrs Davis' due process rights, and in particular her right to a jury trial."
"This judge has assumed unto himself not just the powers of all three branches of government, but has also taken on the powers of judge, jury, and 'executioner.'"
Ignoring the fact that Davis wasn't — and was never going to be — executed, Rhodes goes on to say that "what matters to us is not whether you agree with her position on gay marriage or her decision to not issue marriage licenses." Instead, it's all about Bunning "violating the Constitution in his anger and desire to punish [Davis] for going against his will."
Actually, it kind of is about the whole same sex marriage thing, especially since the main reason Davis (an elected official) stopped issuing marriage licenses (a required duty for county clerks) was because she disagreed with Obergefell v. Hodges. Why? Because of her adherence to the principles of Christianity.
Then again, this is coming from the same group that showed up in Ferguson to help the authorities quell possible riots in August. Also, Rhodes famously called for Sen. John McCain (R-Arizona) to be "hung by the neck until dead."
That kind of sounds like an "executioner," doesn't it?
Check out the conference call below, via Oath Keepers National:
UPDATE–September 11, 11:00 a.m. ET: We incorrectly stated that Denny Peyman was a Kentucky sheriff. However, Peyman is a former Kentucky sheriff.
[h/t Raw Story]
[Image via screengrab]
— —
>> Follow Andrew Husband (@AndrewHusband) on Twitter
Have a tip we should know? tips@mediaite.com