Obama Campaign Launches AttackWatch.com To 'Get The Facts, Fight The Smears'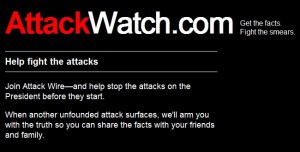 The Obama campaign has launched a new version of 2008's "Fight the Smears" website (also a rejected Windex slogan) that debunked guano from every source, but with some new twists. AttackWatch.com does a 180 on the old site's shiny, happy design, and includes a nifty crowd-sourcing feature that allows supporters (or not) to report an attack, and even to attach a file. Hmmm, we've got a report from a supporter named Haywood D'jablowmee, let me just open that attachment…
In an email to supporters, Obama campaign manager Jim Messina said, "There are a lot of folks on the other side who are chomping at the bit to distort the President's record. It's not a question of if the next big lie will come, just when — and what we're prepared to do about it."
He called on the President's supporters to join AttackWatch (which is also referred to as "Attack Wire") so they can "be on the front lines," and hear about false claims as soon as they come up."
Great. Sounds like a terrific content-generating resource for right-wing bloggers, too. Everybody wins!
Messina goes on to say, "we'll count on you to spread the truth to your friends and personal networks and let us know about new smears whenever you hear them."
The email, and the AttackWatch signup page, contain the obligatory pitches to donate $5 or more, and it's once again unclear how much of this crowd-sourcing feature is real, and how much is just letting people feel involved. If there's a guy at OFA whose job it is to sift through these submissions, his is officially the worst job in the world. Let's not even think about what kinds of attachments that poor guy is going to have to look at.
For those liberals who spent the 2008 campaign, and much of this presidency, wishing President Obama would go all Road House on opponents, the site is a good sign. Gone are the cheery red, white, and blue graphics and dignified fonts, replaced by stark red and white letters on a black background, and grainy film noir photos of AttackWatch suspects like Gov. Rick Perry, Mitt Romney, and Glenn Beck. It's hard to tell whether the object is to win an election, or to hunt down Keyser Soze.
The site also features an "Attack Files" section that aggregates pushback research against attacks, like "President Obama is a friend to Israel, despite unfounded claims to the contrary."
If this campaign is anything like 2008, that page is going to get mighty full, as then-Senator Obama's opponents reached all the way back to his kindergarten class for oppo grist. Maybe this time around, they'll circulate a sonogram featuring an in utero turban.
Here's the full text of OFA's "AttackWatch" email:
Expose the attacks

Friend —

If you're someone who cares about seeing a campaign focused on substance between now and November 2012, I need you to become a part of one of our most important teams.

It's called AttackWatch.com, and it launches today.

Here's the deal: We all remember the birth certificate smear, the GOP's barrage of lies about the Affordable Care Act, and the string of other phony attacks on President Obama that we've seen over the past few years.

There are a lot of folks on the other side who are chomping at the bit to distort the President's record. It's not a question of if the next big lie will come, just when — and what we're prepared to do about it.

AttackWatch.com is exactly what it sounds like: a resource that allows us to nip these attacks in the bud before they show up on the airwaves and in emails — and then fight back with the truth.

By signing up, you'll be on the front lines — you'll hear about false claims as soon as they come up, and we'll count on you to spread the truth to your friends and personal networks and let us know about new smears whenever you hear them.

Will you sign up now to be a part of AttackWatch.com?

Yes, I want to be on the team that fights back.

Not right now, but I'll donate $5 to fund the 2012 campaign and support this work.

I remember the smears from 2008 well, and I'm sure you do, too.

They didn't just attack Barack Obama and Joe Biden. They went after everything this movement is built on, and everyone who supports it.

This time, they're not just out to personally attack the President — they're also out to mislead Americans about the record of accomplishments that he's compiled. Just the other day, a Republican financier actually quoted Saddam Hussein in telling a group of millionaire donors that defeating President Obama will be "the mother of all wars."

We're launching AttackWatch.com today to make sure we're ready for the attacks we know are coming — and armed with the ability to fight back quickly.

Sign up for AttackWatch.com now, and let's get the facts out:

http://my.barackobama.com/Join-Attack-Watch

Thanks,

Messina

Jim Messina
Campaign Manager
Obama for America
Have a tip we should know? tips@mediaite.com