Obama's Aides Reject 'Passé Tactic' of Addressing Americans Ahead of Syria Attack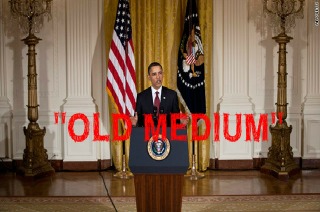 With military action against Syria set to begin within hours, according to reports, President Barack Obama and his administration are determining what legal route to take in order to justify the attack. According to NBC News White House reporter Chuck Todd, the administration is leery of seeking Congressional support for a mission in Syria because Congress many decline to bless such an operation. Now, according to reports from POLITICO's Glenn Thrush, Obama may seek to avoid the American people as well.

Thrush reported on Wednesday that, based on his conversations with aides to the president, Obama will not address the American people about the mission in Syria before hostilities commence. Thrush reports that Obama's advisors believe addressing Americans from the gravity of the Oval Office or the East Room is "passé." Furthermore, most Americans who care about the mission in Syria will learn the logic behind it from cable news.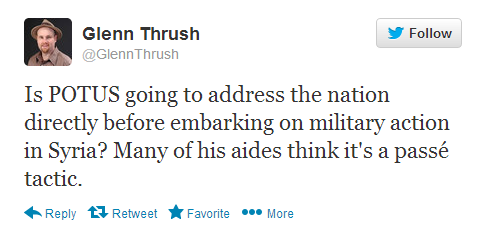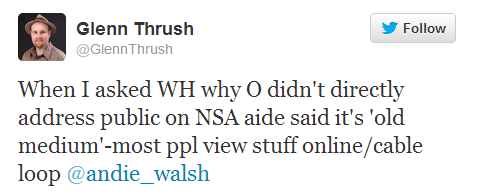 Thrush added later that it was possible that the president would address the situation in Syria and his advisors were simply misinformed, but the president "prefers [an] audience"
TIME's Jay Newton-Small reported on Wednesday that the Obama administration also believes that it does not have to seek Congressional approval for the attack because of the language of the laws which govern when the president can unilaterally engage in military action to defend the American people.
RELATED: Chuck Todd: Obama Avoiding Congress Because 'Isolationists' May Block Attack on Syria
When asked, Carney on Tuesday said Syria poses a "significant challenge to or threat to the United States' national security interests." The language is important, as the president must seek permission from Congress to go to war unless the U.S. is imminently threatened. So, Carney's careful categorization would seem to indicate that no matter what Lee wants — she sent a letter with 20 of her colleagues asking Obama seek permission from Congress to engage in Syria— he likely will go this alone as he did Libya.
—
> >Follow Noah Rothman (@NoahCRothman) on Twitter
Have a tip we should know? tips@mediaite.com