Occupy DC Protesters Push Back Against Coverage Of Sexual Assaults At Camps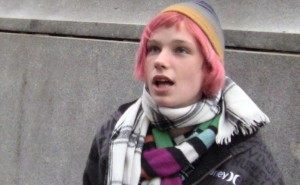 One of the subplots of the Occupy Wall Street movement is the exploitation of reports of sexual violence by opponents of the movement, particularly conservatives stung by the negative press that the Tea Party received. At Occupy DC Monday, I spoke with several of the protesters to see if they were aware of the issue, what they thought of the coverage, and most importantly, what was being done to keep people safe.
The Occupy protests differ from other demonstrations in several ways, one of which is the fact that they're not "events" that begin and end. These encampments are 24/7 microcosms that present many unique challenges, one of which is the fact that they attract all kinds of people, even those who seek to prey on the vulnerable. While the media has reported on the fact that there have been sexual assaults at the Occupy camps (not nearly enough for some, however), the protesters here feel the problem, while serious, has been blown out of proportion to undercut the movement.
Bryan Meister, a sort of unofficial spokesman for the camp, told me there has been "a lot of reporting, but not a lot of sexual assaults."
Asked whether the same "isolated incidents" defense should have also applied to the charges of racism leveled at the Tea Party, Meister said that "At the beginning of the Tea Party, those signs were not few and far between. We're being tarred by things that are genuinely rare."
Several of the female protesters told me that the camps are just smaller versions of society, and that the proportion of sexual assaults and harassment is actually smaller in the Occupy camps. They described steps that the camp has taken, including a "safe women space," where any female Occupier who feels uncomfortable, who needs a women-only place to sleep, or for any reason, can go to and be safe.
Mary Mork, who has been at Occupy DC for two weeks now (after stints at several other Occupy encampments) told me that she feels "One hundred percent safe," and described the camp's "De-escalation Teams," who look to defuse any type of aggression before it gets started.
Here's a clip of Mork and Meister (that could be a hell of a TV show) discussing the issue of sexual assault at Occupy camps, and their interactions with police:
Have a tip we should know? tips@mediaite.com