Olbermann Vacation Day 4: Another Top Producer Leaves For O'Donnell, New Countdown EP Named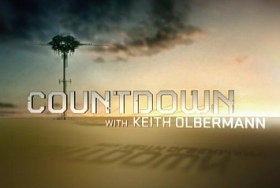 A pair of senior producers on MSNBC's Countdown with Keith Olbermann now have new jobs.
In the wake of Olbermann's Executive Producer Izzy Povich moving to Lawrence O'Donnell's future show, another Olbermann producer is moving to the program while one is filling Povich's spot.
TVNewser's Chris Ariens reports on "another defection" from Countdown, as Greg Kordick moves from SP to EP on O'Donnell's show. Povich's role is called "Senior Executive Producer," but it sounds like ultimately they will remain the #1 and #2 at an MSNBC program. "Greg's an extraordinarily talented producer," said MSNBC President Phil Griffin in the release. "We're lucky to have such an abundance of talent both on and off the air at MSNBC."
Meanwhile Rick Stockwell, another longtime Countdown SP, becomes EP. "As I said to our staff when I informed them last night, I'm delighted to be able to utilize his masterful leadership to a far greater degree than ever before," said Olbermann in the release.
Meanwhile Olbermann didn't like the characterization by TVNewser in the headline. He tweeted:
Another of my producers gets a promotion for Lawrence's new show, with my blessings. TVnewser headline? http://bit.ly/adkWyZ

The only "detections" are the TVNewser bloggers defecting from reporting and/or thinking or if it's too complicated for them, ASKING.
What exactly does "with my blessings" mean? If he didn't give his blessings, would the "promotion" not happen? I've asked Olbermann for his take via Twitter – we'll see if he wants to respond!
—–
» Follow Steve Krakauer on Twitter
Have a tip we should know? tips@mediaite.com