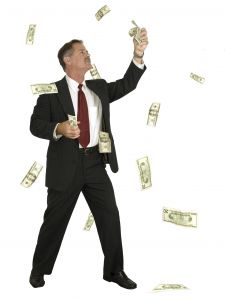 Today, the New York Times is reporting a gain in second quarter profits for its parent company, Times Co., over last year's second quarter numbers. Though your initial reaction might be to jump and cheer for this apparent sign of recovery in the world of print media, Choire Sicha at The Awl suggests you instead take the report with a grain of salt.  A post today at The Awl dissects the total revenue and operating costs of the NYT over the past five years to show that the reported gains come at a steep cost, or, rather, through a steep cut to costs.  Moreover, it's clear that the NYT's profits are falling so quickly that it can barely cut costs fast enough to stay afloat. From The Awl:
If you look back over the last five years, what you see is the newspaper radically chopping its operating costs.

One way to do that is by firing people! And by making your paper smaller. But you have to be careful how many people you fire and how small you make the paper, because you still have to keep people interested in your product.
The "keeping people interested" bit is key here. The Awl's graph of total revenue v. operating costs (below) reveals that the newspaper's total revenue has dropped dramatically in the past two years, necessitating the major cuts in operating costs. So while the NYT might be reporting a bigger profit this year than last year, that doesn't necessarily herald a resurgence in print media.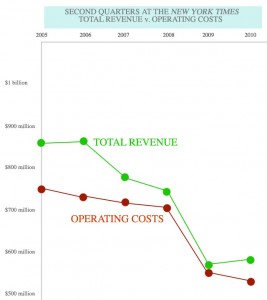 Sicha stipulates that they don't mean to imply that the Times is in its last days. Nonetheless, next year, the NYT will begin charging for online content and it will be interesting to see how the newspaper continues to balance its costs and revenues in the coming years and to what lengths it's willing to go in order to do so.
Have a tip we should know? tips@mediaite.com