Oops! Don't Tell Fox News They've Got Pic Of Lesbian Couple For Column On Traditional Marriage Gender Roles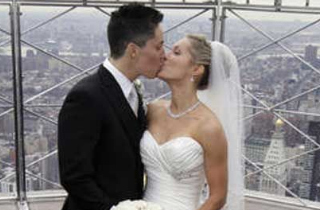 This afternoon, author Jessica Valenti hilariously pointed out that a Fox News column about traditional gender roles in marriage is accidentally accompanied by a photograph of two lesbian newly-weds exchanging a kiss.
The FoxNews.com column in question was written by Suzanne Venker, the niece of social conservative hero Phyllis Schlafly, and previous author of the roundly-panned column on how it's all women's fault that there is a "battle of the sexes."
Venker's latest column, titled "To be happy, we must admit women and men aren't 'equal'" laments that in modern marriage, "men and women have no idea who's supposed to do what," all because of "feminists" who preach a "new way" of thinking about gender. Men and women now believe they can do the same things "without ramifications," she wrote:
"Being equal in worth, or value, is not the same as being identical, interchangeable beings. Men and women may be capable of doing many of the same things, but that doesn't mean they want to. That we don't have more female CEOs or stay-at-home dads proves this in spades."
Knowing the author and subject of the column, it's pretty much a given that the featured image is an unintentional (but, indeed, hilarious) inclusion:
Turns out, that's a stock image of Alaskan same-sex couple Stephanie Figarelle and Lela McArthur, who were wed atop the Empire State Building early last year, via HuffPost: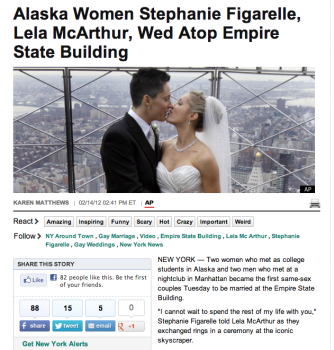 Choice excerpts from the couple's backstory:
"I cannot wait to spend the rest of my life with you," Stephanie Figarelle told Lela McArthur as they exchanged rings in a ceremony at the iconic skyscraper. […]

Figarelle, 29, and McArthur, 24, met in an anatomy class at the University of Alaska Anchorage. Celia Milton, the interfaith minister who married them, said that Figarelle invited McArthur out to see a drag show and McArthur thought she meant a drag race.
One can't help but imagine a social conservative like Venker — one who would never acknowledge the validity of the pictured relationship — would be anything but horrified to know her straight-laced article about getting back to traditional 1950s gender roles was accompanied by such an image.
So, shh, don't tell. Let's see how long this lasts.
UPDATE: …Ugh, we said not to tell! But you guys must have told, because Fox changed the picture to this: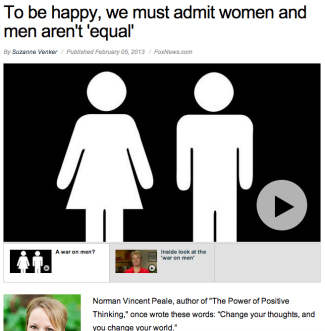 [h/t Jessica Valenti]
— —
>> Follow Andrew Kirell (@AndrewKirell) on Twitter
Have a tip we should know? tips@mediaite.com