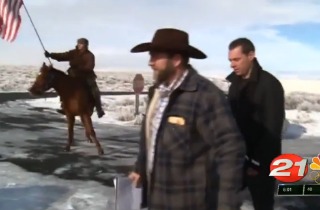 It has been forty-one days since Ammon and Ryan Bundy led an armed mob to occupy an Oregon wildlife preserve to demand public lands be turned over to locals and that two ranchers be released from prison. The FBI has been tightening the pressure on the group's final members for the past day, and a short while ago, the final member of the group walked out and surrendered to law enforcement.
The mob's hold on the refuge has been dwindling in recent weeks when the Bundys and their companions were detained in separate series of arrests, one of which resulted in the death of spokesperson Robert 'LaVoy' Finicum. While the Bundys urged their companions to give it up in statements from their legal representatives, Jeff Banta, Sean Anderson, Sandy Anderson and David Fry have been the last to hold on for the last few days.
As FBI agents moved in, Banta and the Andersons walked out several hours ago and were taken into custody. Fry, on the other hand, held a two-hour call with officials who urged him to come out as he swung hysterically between refusing to budge and saying he'd rather be killed by law enforcement or commit suicide if his grievances weren't recognized.
"I'm not coming out of here alive," Fry said in the exchange. "I'll kill myself before you guys do it."
Eventually, multiple reports confirmed that Fry walked out and the occupation ended with his being taken into custody:
David Fry is in FBI custody — the refuge occupation ends peacefully.

— Les Zaitz (@LesZaitz) February 11, 2016
A weekslong standoff by antigovernment protesters in Oregon has ended with the surrender of the last four holdouts https://t.co/2CXi7rwyba

— The New York Times (@nytimes) February 11, 2016
BREAKING: #DavidFry surrenders, ending #OregonStandoff https://t.co/TMFCmkGcNJ pic.twitter.com/1GQx6gsaKP

— RT America (@RT_America) February 11, 2016
Cliven Bundy, the infamous father of Ammon and Ryan, flew to Portland this morning in what might have been an attempt to take over the mob. He was arrested at the airport and is now facing charges of assault and conspiracy in connection with his 2014 standoff around his Nevada ranch.
You can listen to the phone exchange with the audio above, via "liberty activist" Gavin Seim's YouTube account.
[h/t NBC]
[Image via screengrab]
— —
>> Follow Ken Meyer (@KenMeyer91) on Twitter
Have a tip we should know? tips@mediaite.com