Paula Deen Releases 1st Video Statement Addressing Use Of N-Word, Plantation Costumes (UPDATED)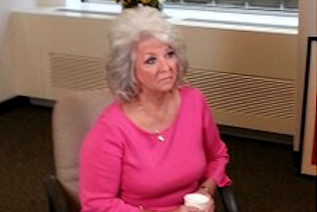 Food Network personality Paula Deen released a video statement on Friday afternoon addressing the controversy over her acknowledged use of racist epithets.
"I want to apologize to everybody for the wrong that I've done," Deen said, addressing the camera directly in what did not seem a particularly scripted address. "I want to learn and grow from this. Inappropriate, hurtful language is totally, totally unacceptable. I've made plenty of mistakes along the way, but I beg you, my children, my team, my fans, my partners, I beg for your forgiveness. Please forgive me for the mistakes that I've made."
Deen is being sued by former employees for what they describe as endemic discrimination and abuse. In a filmed deposition, the famous southern chef admitted to openly using the N-word, and even to planning on dressing African American waitstaff in plantation garb for a wedding. (The behavior is years old, but its discovery is recent.)
RELATED: John Oliver Savages Paula Deen Over 'N-Word' Controversy: She Might Just Be Suffering From Type-Two Racism
The revelation earlier this week caused an outcry, but until now Deen had only spoken through her lawyer, stating that she "does not condone or find the use of racial epithets acceptable." She backed out of an appearance on Today Friday morning, citing exhaustion.
The Food Network said it would "continue to monitor the situation."
UPDATE 4:10 pm: Paula Deen has removed the video from YouTube without explanation. This seems odd, especially after the over one hour lag from when Deen announced the video on Twitter to when it was posted:

UPDATE 4:21 p.m.: Paula has just released a second video. Watch it here:

UPDATE 4:26 p.m.: Paula Deen removed her first video from YouTube a few minutes ago. We have an archived version below:
UPDATE 5:10 p.m.: Paula Deen has issued a third video, this one apparently addressed directly to Matt Lauer. "The last forty-eight hours have been very hard," Deen said. "And, you know, I'm a strong woman, but today I wasn't. This morning I was not."
Watch the third video here:

—
>> Follow Evan McMurry (@evanmcmurry) on Twitter
Have a tip we should know? tips@mediaite.com