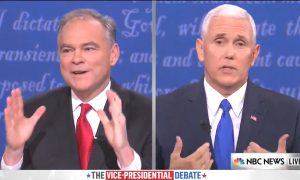 Sen. Tim Kaine noted that over the course of his campaign, Donald Trump had leveled a series of smears against everyone from a federal judges to a beauty queen.
Gov. Mike Pence was unswayed and laughed off the notion that Trump was "running a insult-driven campaign."
Kaine said:
Donald Trump during this campaign has called Mexicans rapists and criminals. He's called women slobs, pigs, dogs, disgusting. I don't like saying that in front of my wife and mother. He attacked an Indiana-born federal judge and said he was unqualified to hear a federal lawsuit because his parents were Mexican. He went after John McCain, a POW, and said he wasn't a hero because he'd been captured. He said African Americans are living in hell. And he perpetrated this outrageous and bigoted lie that President Obama is not a U.S. citizen. If you want to have a society where people are respected and respect laws, you can't have somebody at the top who demeans every group that he talks about. And, again, I cannot believe that Governor Pence will defend the insult-driven campaign that Donald Trump has run.
Moments later, Pence laughed off the notion. "He says ours is an insult-driven campaign?" he asked rhetorically. "Did you all just hear that? Ours is an insult-driven campaign?" Pence suggested that Kaine had mis-represented Trump's comments and said it didn't hold a candle to Hillary Clinton.
Clinton's Twitter account noted that Trump couldn't stop himself from "running an insult-driven campaign" even while the debate was going on, re-tweeting a supporter's remark that Kaine "looks like an evil crook out of the Batman movies"
Yes, Trump and Pence are running an insult-driven campaign.

Donald's literally doing it right now. #VPDebatehttps://t.co/VZeBQ85nyH

— Hillary Clinton (@HillaryClinton) October 5, 2016
—
Sam Reisman (@thericeman) is a staff editor at Mediaite.
Have a tip we should know? tips@mediaite.com