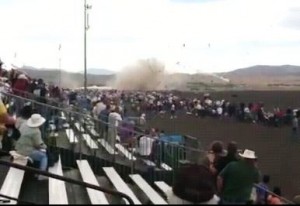 A plane has crashed into stands of onlookers at the National Air Races in Reno Nevada causing what is being described by a spokesperson for a local medical organization as "mass casualties."
Stephanie Kruse, spokeswoman for the Regional Emergency Medical Service Authority, said 40 people have already been taken or flown to local hospitals. The accident occurred at approximately 4:30 p.m local time. Witnesses told local reporters that the plane was a P51 Mustang which nosedived. Mike Draper, a spokesman for the air races, told the Associated Press that the pilot crashed into the box seat area at the front of the grandstand.
This event welcomes thousands of people annually to watch military and civilian planes race.
Air shows often involve daring and amazing aeronautic feats and dives, often with multiple planes flying in unison. In this case it was the third lap in what was described as a "six lap run" where one plane was flying in front of the other. While accidents are rare, its even more unusual and tragic when bystanders are injured or killed.
UPDATE 09/17/11: From the New York Times:
RENO, Nev. — Nine federal investigators arrived from Washington on Saturday at the site of a deadly air show accident just north of Reno to help determine why a vintage plane crashed into a crowd on Friday afternoon, killing at least two people, including the pilot, and maiming dozens of spectators.

The accident, at the National Championship Air Races and Air Show, a popular annual attraction that draws thousands each year, injured more than 50 people, at least 15 of them critically, said Stephanie Kruse, a spokeswoman for the Regional Emergency Medical Services Authority in Reno. Three hospitals received patients, Ms. Kruse said, including some with severed limbs.
UPDATE 2: The death toll has risen to 9.
Here is the disturbing video via YouTube:
Watch the report from MSNBC's Rachel Maddow:
Have a tip we should know? tips@mediaite.com