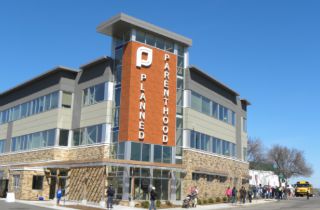 In the past two weeks, Planned Parenthood has faced an extensive battle to defend themselves ever since questions were raised over two videos showing the organization's harvesting of fetal tissue. Late on Sunday, Parenthood came under a new kind of attack: cyber.
Planned Parenthood is investigating a hack where online vandals stole a list of names and email addresses of those employed by the agency, while also attempting to deface their website. Daily Dot reported that the hacker group calls itself "3301," and one of their participants, who goes by the letter "E," made it clear that their motives were political in nature.
"Trying to mold an atrocious monstrosity into socially acceptable behaviors is repulsive," said E. "Obviously what [Planned Parenthood] does is a very ominous practice. It'll be interesting to see what surfaces when [Planned Parenthood] is stripped naked and exposed to the public."
The attempt to mess with the Parenthood website failed, but the hackers reportedly said that they would be releasing the information they acquired "soon." Daily Dot did not publish a link leading to their news source or the hacker's website, but wrote that the hackers left this message:
"We've noticed quite a lot of attention has been diverted to a supposedly malicious organization known as Planned Parenthood. The actions of this 'federation' are not seen as right in the eyes of the public. So here we are, the social justice warriors, seeking to reclaim some sort of lulz for the years and thousands of dollars that Planned Parenthood have wasted and made harvesting your babies."
Executive vice president, Dawn Laguens, called the hack a "new low," and announced that Parenthood would be investigate the claims. "It's unsurprising that those opposed to safe and legal abortion are participating in this campaign of harassment against us and our patients, and claiming to stoop to this new low," Laguens said.
Later in the day, Daily Dot reporter Dell Cameron tweeted that the FBI and the Department of Justice would investigate the breach:
Update: Planned Parenthood confirms cyber-attack, notified FBI. (Story: http://t.co/Huy1zbJafp) | Full statement: pic.twitter.com/aPlmfyBriL

— Dell Cameron (@dellcam) July 27, 2015
[image via Flickr]
Have a tip we should know? tips@mediaite.com