Police: Fresno Shootings 'Solely Based' on Race; Suspect Had Said 'Allahu Akhbar'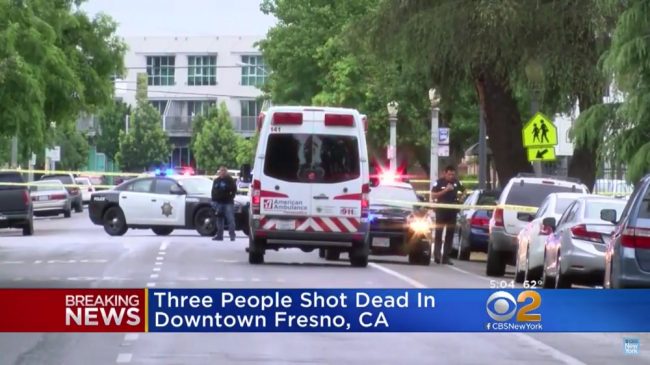 The police chief of Fresno, California announced on Tuesday that the perpetrator of a mass shooting in the city — Kori Ali Muhammad — targeted his victims solely because they were white — even though he used the Islamic exclamation "Allahu akbar" during his arrest.
"This is solely based on race, and it had nothing to do with terrorism in spite of the statement he made," Fresno Police Chief Jerry Dyer stated at a Tuesday press conference.
The Associated Press spotlighted on the California homicides in a Tuesday evening write-up. The press agency first noted that the suspect "set out to kill as many white people as he could, gunning down three men on the streets of downtown Fresno before he was captured and admitted to the killings."
Police were already looking for Muhammad, an African American, in connection with the murder of a white security guard at a Motel 6 in Fresno on Thursday. Local ABC affiliate KFSN-TV reported on Tuesday morning that "the unarmed security guard, 25-year-old Carl Williams, later died at the hospital."
The AP article also detailed the murder suspect's alleged rampage near a Catholic Charities facility.
…He [Muhammad] walked up to a utility truck and shot a Pacific Gas & Electric Co. employee sitting in the passenger seat…the worker, a 34-year-old white man, died. Muhammad then shot at another person and missed. He aimed at a third, killing the 37-year-old on the sidewalk as he walked with a bag of groceries in a neighborhood lined with tall trees, authorities say. The final victim, 58, was gunned down in the parking lot of a charity building.
Chief Dyer also disclosed during his presser that the murder suspect "approached a vehicle in between shootings, but he spared the lives of two women who were in the car with a child. The women were Latina, he said."
The wire service later pointed out that "on several occasions, he wrote [Facebook] updates that included the phrase 'Allahu Akbar,' meaning 'God is great' in Arabic."
Earlier in the evening, conservative Twitter users ripped the AP over one of their initial posts on the mass shootings, which used a translation of the well-known Arabic phrase.
Fresno police say suspect in triple slaying told them he hates white people, shouted "God is great" before killings. https://t.co/rrSOzfEXaB

— The Associated Press (@AP) April 18, 2017
There's a possibly important detail missing from this headline. https://t.co/aBhsTLdeXA

— Jason C. (@CounterMoonbat) April 18, 2017
When the shooter shouts, "Allahu Akbar" while targeting white victims at a Catholic Charties building, it is not a "random act of violence." pic.twitter.com/JR9QR5Ffb6

— Brad Thor (@BradThor) April 18, 2017
[image via screengrab]
Have a tip we should know? tips@mediaite.com