Police Union Meeting Devolves into Brawl over Demanding Apology from de Blasio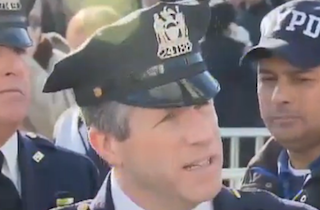 Tensions flared at a recent meeting of the Patrolmen's Benevolent Association, run by the very loud Patrick Lynch, in which the debate slowly sank into fisticuffs.
Sources told the New York Daily News that the fight started over Lynch's demand that Mayor Bill de Blasio owed policemen an apology for his statements about something very few people remember at this point.
"This is what my members want: they want more cars, better vests, more manpower," one cop reportedly yelled. "They don't want an apology."
The meeting quickly devolved into a fight between the pro-Lynch and anti-apology factions:
"They were screaming," one source said. "Lynch's guys got up and there was shoving and pushing. It got ugly."

The source said delegates had been getting questions from their cops.

"They want to know if there's a plan," the source said, referring to whether cops should make more arrests.

Cops also wanted to know what happened at a Dec. 30 meeting of five police union heads and the mayor at the new Police Academy.

"They asked Lynch directly, 'What did you ask the mayor for?'" the source said.

But Lynch wouldn't discuss what happened at the meeting, the source said.

The yelling and screaming lasted about 10 minutes before Lynch adjourned the meeting and left.
A Lynch supporter — and remember, the police are pretty good at leaking stuff to the press — quickly told NYDN that the fight was instigated by a group attempting to push Lynch out of the PBA's leadership, and take control over the largest police union in the country. "They're running a shadow campaign, but they haven't declared they're running, so they stand up there and yell," the source said.
[NYDN]
[Image via screenshot]
—
>> Follow Tina Nguyen (@Tina_Nguyen) on Twitter
Have a tip we should know? tips@mediaite.com