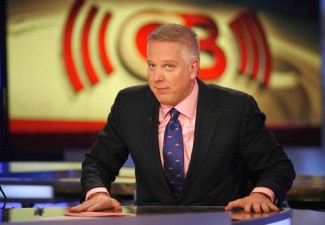 It's no secret that Glenn Beck keeps the left in his cross-hairs, eager to jump on any tiny misstep that can be magnified to the point of political disruption. Beck has consistently taken Democrats to task for "anti-American" behavior, such as not paying taxes, nailing Treasury Secretary Timothy Geithner and Labor Secretary Hilda Solis, among others. Now, Politico is reporting that Beck may have some tax issues of his own. But the accusations are extremely tentative and overly vague.
The Politico piece begins by setting up Beck as a hypocrite, quoting the host on "a culture of corruption among some of the left," especially "tax cheats," whom he wouldn't trust "with my children, let alone my children's future."
Mocking the excuses offered by the nominees, Beck sarcastically intoned: "Oh, the tax thing, it was an accident. It was my husband's fault. I didn't do it, he did it. I didn't mean to do it. I was just working hard for the people."
But Politico never really brings the hammer down on Beck, burying the accusations and pulling punches when they finally come. According to the report, Beck has "at times struggled to keep up with the heightened tax and filing demands accompanying his success." Sounds normal, no? The real Beck tax problem does seem to exist, according to "a source with knowledge of the situation," but if you're Politico, why back into it? The piece continues:
Mercury, a private corporation that lists Beck as chief executive officer and his wife, Tania Beck, alternately as vice president or secretary, since 2007 has fallen behind on its New York City business income taxes and has been cited for filing errors related to its obligations under Texas franchise tax and New York state workers' compensation insurance rules.
"Mercury immediately resolved these very common accounting issues," the source is quoted as saying. Then why is this a story at all? A ha! There's a moral: "What I think would be helpful for everyone is to have is a much bigger dose of sympathy for how complicated it is to comply with the tax laws," urges an expert.
Politico: making us all more sympathetic. Taxes: hard for everyone.
What if it's Beck with a tax 'accident'? [Politico]
Have a tip we should know? tips@mediaite.com