Poll Finds Americans Really Don't Trust Trump, Rubio, or Cruz to Fill SCOTUS Vacancy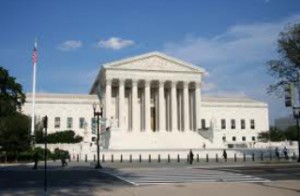 As President Obama continues to mull replacements for late Supreme Court Justice Antonin Scalia and Senate Republicans continue to insist they won't even consider an Obama nominee (or "Obamanee™"), a new poll finds that the GOP is badly at odds with the American people on this issue. In a new Public Policy Polling survey, Americans overwhelmingly want President Obama to choose Scalia's replacement, and even more overwhelmingly don't trust Ted Cruz, Marco Rubio, or Donald Trump to make the pick:
Reflecting what other national polling has found, 56% of voters in the country want the vacant seat on the Supreme Court seat to be filled this year by a nominee of President Obama's, to only 40% of voters who think the seat should remain vacant for the next year. That includes 53/41 support from independents for filling the seat this year. Voters especially think that the Senate should at least see who President Obama puts forward before making a decision- 66% think Obama's nominee should be given a chance to only 25% who believe the Senate should just refuse to confirm someone no matter who it is. Even Republican voters, 53/37, think the Senate should be open to Obama's nominee rather than reflexively dismissive.
There is, of course, a partisan divide baked into those numbers, but among independents, there is a clear preference not to let these guys pick:
Only 33% of voters trust Ted Cruz to nominate the new Supreme Court justice (57% don't), only 31% trust Donald Trump to (62% don't), and just 26% trust Marco Rubio to (61% don't). Independent voters in particular have little faith in the GOP hopefuls to nominate a Supreme Court justice- 61% don't trust Trump to, and 58% don't trust either Cruz or Rubio to. One particularly brutal finding for Rubio on this poll is that even among Republicans there are more (45%) who don't trust him to make that appointment than do (41%) trust him.
As is their wont, PPP also threw in some mischief questions, asking voters who they trust more to nominate a justice, Donald Trump or a list of celebrities. Trump is less trusted than Tom Hanks and Peyton Manning, but he ties Taylor Swift and edges out Will Smith and Mickey Mouse.
The real question, though, is whether Republicans can be made to believe that this will be a voting issue for Americans. The poll says voters are less likely to vote for senators who block an Obama nominee, but how strongly they will favor it is an open question.
Have a tip we should know? tips@mediaite.com