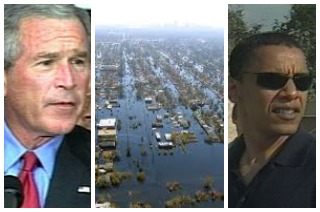 A poll from the Democratic firm Public Policy Polling released on Wednesday shows that Louisiana Republicans are split as to whether to blame George W. Bush or Barack Obama for the government's failure to provide adequate support for the state in the wake of 2005's Hurricane Katrina. While 28 percent of Pelican State Republicans blame Bush for the post-Katrina failures, 29 percent blame Obama who was a freshman U.S. Senator at the time of the storm. 44 percent of GOP voters are unsure who to blame.

RELATED: Melissa Harris-Perry Tears Into Bush Over Presidential Library's Katrina Exhibit: 'Heckuva Job, Dubya'
"Bush was criticized heavily when he did not immediately return to Washington from his vacation in Texas after the storm had reached landfall," Talking Points Memo, who as provided the PPP poll "exclusively," reported. "The government was also slow to provide relief aid and Michael Brown, then-director of the Federal Emergency Management Agency (FEMA), admitted in a televised interview that he learned that many of the storm's victims at the New Orleans Convention Center were without food and water well after the situation had been reported in the press."
The only other question the survey asked Louisiana Republicans was about the 2016 presidential primaries. PPP tested nine Republican names and found former Florida Gov. Jeb Bush and Sen. Rand Paul (R-KY) leading the survey with 17 and 18 percent support respectively. Rep. Paul Ryan (R-W) and New Jersey Gov. Chris Christie follow behind at 11 and 10 percent respectively.
h/t TPM
> >Follow Noah Rothman (@NoahCRothman) on Twitter
Have a tip we should know? tips@mediaite.com