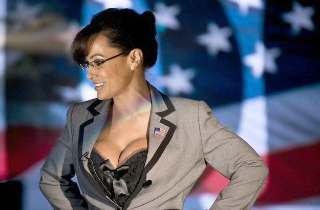 A new survey found that most of the pornography biz wants four more years of President Barack Obama.
Porn insider site XBiz surveyed members of the industry and found that of the 339 respondents, 68 percent want President Obama to stay in the White House, while only 13 percent prefer Republican candidate Mitt Romney. An additional 14 percent said they prefer "someone else," while the remaining 5 percent said "I don't care."
The website talked to Hustler founder Larry Flynt, an avid Democratic activist, who said he was "not surprised" that Obama is the favorite among the porn industry. Vivid Entertainment CEO Steven Hirsch, who has previously blasted Romney for his positions on pornography, agreed with Flynt.
– RELATED: Mediaite's Andrew Kirell Talks GOP Social Issues On HuffPost Live
"The results aren't really surprising because most people involved with the adult industry have a liberal view of government and how it should work," Hirsch said. "Social issues are more important than fiscal issues and they will support a candidate who shares their beliefs."
This also might not come as a surprise because, as we've reported before, Romney and much of the GOP have expressed their desire to extend enforcement of obscenity laws to cover all pornography.
In the past, Republican President George W. Bush used such obscenity laws to prosecute adult pornographers like Evil Angel founder John Stagliano, whose case was eventually ended in 2010 under the current administration.
XBiz talked to Stagliano about which candidate he prefers, and the veteran pornographer gave a much different answer than his colleagues: "The only candidate who protects our right to do business is the Libertarian Party candidate, Gary Johnson. He was the only person dealing with the real problems we have, like war, the debt, censorship and inefficient government."
Full report here.
[h/t Reason]
— —
>> Follow Andrew Kirell (@AndrewKirell) on Twitter
Have a tip we should know? tips@mediaite.com