Potential Heavy Metal Rocker Freaks Out Boston Bus With His Fake Bullet Belt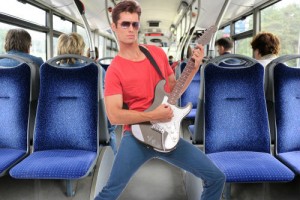 Following the church shooting in Charleston, S.C., in June, guns and gun control were yet again thrust into the spotlight. Most of the ensuing debates concerned whether or not the Confederate flag on the Capitol grounds should come down, and it did, but guns were always in the periphery.
Combined with the recent developments in Boston Marathon bomber Dzhokhar Tsarnaev's trial, you can probably understand why an otherwise unassuming metalhead dressed to the nines in fake bullets, spikes and black leather freaked out a bunch of bus commuters in Beantown.
Apparently, panicked passengers unaware of typical heavy metal music garb called the police as their bus traveled through Allston, a community mostly filled with college students adjacent to Boston:
At about 4:20 PM on Friday July 10, 2015, officers assigned to District D-14 (Brighton) responded to a call for a person with a gun on an MBTA bus in the area of Cambridge and Harvard Streets. Officers learned that the driver had pulled the bus over as passengers began calling 911 when a male suspect boarded the bus with what appeared to be military grade ammunition strapped around his waist. The driver stated that the passengers were in a panic, fearing that the suspect was about to pull out a weapon.

The suspect, later identified as Kevin Young, 26, of Watertown, exited the bus and was stopped by police on Penniman Road at which time it was discovered that the ammunition was fake. Officers recovered 69 replica bullets in all. The suspect was wearing what was described as spiked fighting gloves and spiked leather bracelets.

The suspect was placed in custody and will appear in Brighton District Court on charges of Unlawful Possession of Ammunition, Unlawfully Carried Dangerous Weapon and Disorderly Conduct.
According to the Boston Police Department's own press release, Kevin Young didn't appear to do or say anything warranting an arrest. Still, the passengers' panicked state caused the arresting officers to investigate his gear and, upon further inspection, take him in for the charges described.
Look, gun violence is a very scary thing, and an unfortunately large part of our modern reality in the United States. However, a lack of knowledge of the known dress code of heavy metal music fans since the 1980s isn't really an excuse to go and have a person arrested.
Plus, BPD still arrested and charged Young with "Unlawful Possession of Ammunition" and "Unlawfully Carried Dangerous Weapon" even though "the ammunition was fake." Unless more information is released to clarify the matter, I'm going to have to go with "this does not compute" for the time being.
[h/t Vanyaland]
[Image via Shutterstock.com]
— —
>> Follow Andrew Husband (@AndrewHusband) on Twitter
Have a tip we should know? [email protected]