Susan Sarandon Wants You to Google 'GMOs' Instead of Hating on Ariana Grande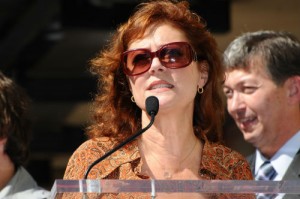 Last week, the American media machine went ballistic over yet another audacious demonstration of unpatriotic degeneracy. No, it wasn't something President Barack Obama said that sent the GOP into a tantrum. Nor was it one of Donald Trump's repeated gaffs on the 2016 campaign trail. It was security footage of pop star Ariana Grande licking a donut and saying "I hate America." Honest to God.
Unsurprisingly, Fox News jumped all over the breaking story. One Fox & Friends guest even made the expected connection between Grande, Obama and millennials. Grande quickly issued an apology, but this wasn't enough for some. However, actress and activist Susan Sarandon took Grande's side on Twitter and in an recent interview with Vulture, and it all makes about as much sense as the original #donutgate.
First, she tweeted these two gems on Thursday:
Today, lick a doughnut in solidarity with @ArianaGrande. A sweet, talented, true American. 🍩🇺🇸

— Susan Sarandon (@SusanSarandon) July 9, 2015
For all you concerned about #DonutGate, I suggest you Google Roundup, Monsanto & GMOs & put your angst into something really threatening.

— Susan Sarandon (@SusanSarandon) July 9, 2015
I'm not going to lick anything in solidarity with anyone, but at least Sarandon was trying to offer some help and encouragement. However, it's the second tweet and what she said in a subsequent interview that do and don't make all that much sense:
So I didn't expect you to be in the news when we set up this interview, but you've actually made headlines twice this week. On the least important front, you got noticed for tweeting out your support for Ariana Grande. What made you speak up?

Well, I just worked with her. We did Zoolander 2 together, in Rome. She couldn't be more professional or sweet. Her mom is great. Clearly [her remarks were] taken out of context. But of all the things — if only that energy was put to the study of the effects of GMOs, which affect your health a lot more than licking a doughnut. People should be outraged by what Monsanto is doing, not Ariana. She's smart, and she's a really great, very talented person. It's just ridiculous they're jumping on her the way they are.
Sure, we get it. Sarandon's trying to use the media attention on Grande's donut-licking, anti-American ways to shift the focus onto something else — say, the apparent evils of "Roundup, Monsanto & GMOs." But it's still a helluva a stretch, and it actually makes me want to lick a donut instead of Googling all that crap. The former requires less work, and is much tastier.
[h/t Billboard, Vulture]
[Image via Shutterstock.com/Twitter]
— —
>> Follow Andrew Husband (@AndrewHusband) on Twitter
Have a tip we should know? tips@mediaite.com