Practical Advice For Young Conservatives: Either Grow Up, Or Stop Being Such A Slut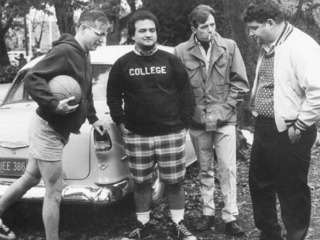 RedState managing editor Erick Erickson has a bit of gentle advice for young men (and more than a few of the young women) in attendance at this year's CPAC: Grow up.
While the atmosphere at the Conservative Political Action Conference may not be quite what it's rumored to be at Media Matters HQ, he writes, treating CPAC like a dive bar in a college town may not offer the best, most favorable representation of young conservatives or of the conference as a whole:
RELATED: Watch Andrew Breitbart's Fiery CPAC Speech: I Have 'College Days' Obama Videos
We can be thankful that CPAC is not like the communications war room at Media Matters. But it should be much more than that. The young men and women who go to CPAC are often present or future leaders on their college campuses and within the conservative movement. They go to CPAC and are often on near equal terms at CPAC with people much older than themselves. Unfortunately, too many treat CPAC like spring break.

More than a few of the twenty and thirty somethings who go to CPAC seem to treat it like an extension of their college days doing their best to hook up before passing out. It's not the majority to be sure, but it is a noticeable minority.
"Conservatives should," Erickson continues, "first and foremost, want to conserve the basics and good behavior should remain a basic characteristic of the conservative movement. As conservatives, we believe in self-government. With that belief comes the duty of personal responsibility. We should accept that duty as the opportunity to do what is right, not as license to behave like fools."
"It really is time," he concludes, "to embrace again the concept of growing the hell up."
And lest people wag their fingers solely at the young conservative men wearing their ties around their heads whilst yelling "WELCOME TO THE BONE ZONE!" within earshot of Rick Santorum, Erickson points to a companion piece, of sorts, written by Dr. Melissa Clouthier.
"Women will be future leaders, too," she writes, "and I was dismayed to see how many of them [at CPAC] either looked frumpish or like two-bit whores." Have women, she asks, "so internalized feminist dogma that they see themselves in only two ways? Butch, men-lite wannabes or 3rd wave sluts who empower themselves by screwing every available horndog man?"
And here exists an important difference when it comes to writing about the behaviors of young men versus young women. Erickson encourages young men to grow up and behave like the young adults they are, comporting themselves in a manner that best represents the conservative movement. Their morals and who they are as people are not called into question, nor should they be.
But women who behave "badly" are not encouraged to act like adults — they're told, instead, to stop being "men wannabes" or slutty slutty sluts.
For men, the behavior is called out, and rightly so. But their beliefs aren't called into question. Erickson doesn't presume to know how these men view or feel about themselves, or what sort of movement or ideology may have impacted their desire to treat CPAC as little more than a means of hooking up. The Madonna / whore dichotomy does not exist for men, and while their choices may reflect badly on them, they don't define them as people. Erickson knows and appreciates that they are capable of more.
I only wish that these young conservative women would be given the same respect.
Maybe instead of reprimanding the few bad apples in the barrel for poorly representing CPAC, certain conservatives should look inward and analyze how, say, chastising people for dressing in a way we might not enjoy ("Save the stilettos," Clouthier tells us) might have a more profound, lasting and negative impact on the way the movement is viewed both by those within it and those judging from the outside.
h/t RedState
Have a tip we should know? tips@mediaite.com