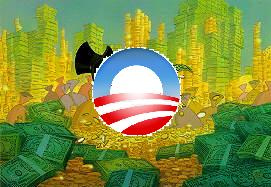 According to an email to supporters, President Obama's reelection campaign raised more than $70 million in the third quarter, from 606,027 donors. The total, including joint fundraisers with the Democratic National Committee, is down from the combined $86 million they raised in the second quarter, but well ahead of their $55 million goal, and miles ahead of the President's Republican challengers.
Fading former frontrunner Rick Perry raised $17 million in the third quarter, but Mitt Romney and current leader Herman Cain haven't released their Q3 figures yet.
Much is being made of the fact that President Obama's campaign is expected to raise a billion dollars, which will likely dwarf his eventual opponent's tally, but the Goliath vs. David optics of that are deceptive. In a video to supporters last quarter, Obama for America campaign manager Jim Messina pointed out that the President will face an unprecedented amount of opposition from independent groups, with no limits on donations, and no duty to disclose their individual donors. Messina projects the figure at $500 million, but there's really no way to tell. This will be the first presidential election held in the post-Citizens United petri dish.
The OFA email is less detailed than its last announcement, which probably means that some of the proportions of small door to big donor dollar figures are going to be significantly different than last time. Here are some details that they did provide:
— In the third fundraising quarter of this year, 606,027 people donated to this campaign — even more than gave in the record-breaking previous quarter.

— Those people gave more than 766,000 total donations — 98 percent of them $250 or less, at an average amount of $56. That's more than twice as many donations than we had at this point in the historic 2008 campaign.

— We are focused on building infrastructure that will help us win in 2012. And each quarter we set a combined goal for the campaign and our allies at the Democratic National Committee. We far exceeded our goal of $55 million this quarter between the two organizations. Great work.

— Together, Obama for America and the DNC raised more than $70 million. And it all happened during a summer when the President was focused on doing the job he was elected to do — a summer when we had to cancel a series of fundraising events and ask everyone to dig a little deeper.
Here is the full text of the Obama campaign's email to supporters:
Friend —

Remember that deadline we kept emailing you about a couple weeks ago?

Here's what you should know about what we'll report to the FEC tomorrow:

— In the third fundraising quarter of this year, 606,027 people donated to this campaign — even more than gave in the record-breaking previous quarter.
— Those people gave more than 766,000 total donations — 98 percent of them $250 or less, at an average amount of $56. That's more than twice as many donations than we had at this point in the historic 2008 campaign.
— We are focused on building infrastructure that will help us win in 2012. And each quarter we set a combined goal for the campaign and our allies at the Democratic National Committee. We far exceeded our goal of $55 million this quarter between the two organizations. Great work.
— Together, Obama for America and the DNC raised more than $70 million. And it all happened during a summer when the President was focused on doing the job he was elected to do — a summer when we had to cancel a series of fundraising events and ask everyone to dig a little deeper.

If I could sum up this last quarter in a few words: You came through. Thank you.

Here's even bigger news: Right now, 982,967 people have donated to this campaign. We're within striking distance of 1 million donors.

You're one of those first million already, so it's up to you to inspire someone else to give for the first time. Make a promise to match someone's first donation to the campaign now — you pick the amount, and we'll match you with a grassroots supporter who hasn't given to the campaign yet. You can even leave them a note (and you might get one back).

Will you donate $35 or more and promise to match someone's first donation to the campaign today?

Part of the reason we send you all these emails is that we don't accept any money from special-interest groups or Washington lobbyists.

So getting to a million grassroots donors isn't just a huge accomplishment this early in the campaign. It's our answer to our opponents, the press, and anyone who wants to know whether the President's supporters have his back.

The reality is that on top of the hundreds of thousands of supporters from 2008 who decided to make another donation, 257,635 people made their first donation ever to the Obama organization — continuing the record pace you all set in the previous quarter.

That support translates directly to what we can do on the ground. In the past three months we've grown our organizing staff by 50 percent, and opened up three new field offices every week. Thousands of volunteers and organizers made 3 million phone calls and in-person visits to voters.

That's all because you decided to be part of this.

And the continued pace of that growth is up to you — we will open more offices, train more organizers, and knock on more doors at the pace you make possible.

When Republicans think it helps their political fortunes to block the progress that the President is advocating for, we have to speak up and mobilize.

You know why it's important to engage right now. We're up against a Republican Party and special interest-funded groups that will spend hundreds of millions of dollars spreading any message that they believe will defeat the President and roll back our efforts to build a fairer economy that rewards hard work and responsibility, not large corporations.

But we've also got to build for the long term. That's what all the fundraising and deadlines are about: building the organization now that will put us in a position to win in 2012.

Thanks for all you did to get us here. I'm excited for what's ahead, and I hope you'll take part in the push to 1 million grassroots donors today.

Make a pledge and double your impact by inspiring someone to donate for the first time today:

https://donate.barackobama.com/Million-Pledge

Thanks,

Messina

Jim Messina
Campaign Manager
Obama for America
Have a tip we should know? tips@mediaite.com