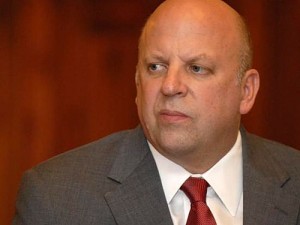 Rep. Scott DesJarlais (R-Tenn.), an anti-abortion activist, had an affair with a patient when he was a practicing physician and then pressured her to get an abortion, according to a report by The Huffington Post.
The report, which cites a phone call transcript from 2000, said DesJarlais was "trying to save his marriage at the time." Said transcript and court documents showed that DesJarlais and the woman went back and forth about undergoing to the procedure.
Some of the quotes from the transcript, via the HuffPost:
"You told me you'd have an abortion, and now we're getting too far along without one," DesJarlais tells the woman at one point in the call while negotiating with her over whether he'll reveal her identity to his wife. They then discuss whether he will accompany her to a procedure to end the sort of life the congressman now describes as "sacred."

"You told me you would have time to go with me and everything," the woman complains.

"I said, if I could, I would, didn't I? And I will try," DesJarlais says. "If I can [find] time, you're saying you still will?"

"Yeah," the woman answers.

The two bicker over when they can meet to hash out a solution, and they make clear the nature of their relationship when DesJarlais says delaying a resolution isn't fair to his wife.

"This is not fair to me. I don't want you in my life," the woman says.

"Well, I didn't want to be in your life either, but you lied to me about something that caused us to be in this situation, and that's not my fault, that's yours," the doctor responds.

"Well, it's [your] fault for sleeping with your patient," the woman fires back.
DesJarlais' wife had apparently filed for divorce two years prior. The HuffPost provided a copy of the transcript to the congressman — who "did not deny its contents."
"Desperate personal attacks do not solve our nation's problems, yet it appears my opponents are choosing to once again engage in the same gutter politics that CBS news called the dirtiest in the nation just 2 years ago," his statement said.
Read the full report over at The Huffington Post.
Have a tip we should know? tips@mediaite.com