Pro-Roy Moore Minister: He Went After Teens Because Older Women Were All Married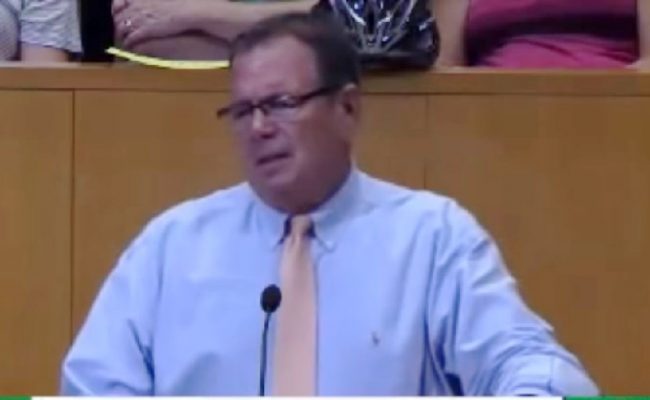 In the wake of the numerous allegations of sexual misconduct leveled against Alabama GOP Senate candidate Roy Moore, a number of his supporters have offered up some rather bizarre and insane defenses of Moore. Shortly after Moore was accused of initiating sexual contact with a 14-year-old when he was 32, the state auditor compared the situation to Mary and Joseph while stating that it was "all much ado about very little."
Meanwhile, we've seen pastors state that "more women are sexual predators" and "some 14-year-olds" could "pass for 20." In that vein, Evangelical Christian minister Flip Benham appeared on Alabama radio to offer up his defense of Moore. And, unbelievably, it was somehow even worse than the previous ones.
Speaking to hosts Matt Murphy and Andrea Lindenberg of the radio show Matt & Aunie, Benham — who recently appeared at a rally of religious leaders defending Moore — indicated that the reason Moore pursued teenage girls when he was in his 30s was that all the other women were taken.
No, seriously. He said that.
"Judge Roy Moore graduated from West Point and then went on into the service, served in Vietnam and then came back and was in law school," Benham said. "All of the ladies, or many of the ladies that he possibly could have married, were not available then, they were already married, maybe, somewhere."
The conservative Christian stated Moore looked in "a different direction," claiming that it was always with the permission of the "parents of the younger ladies." After noting that Moore's current wife, Kayla, was a young woman when they got married, Benham said that Moore went that route "because there is something about a purity of a young woman, there is something that is good, that's true, that's straight and he looked for that."
Apparently, Benham was unaware that Kayla Moore was divorced when she wed Roy Moore, leading to the two hosts telling him. After the hosts highlighted that Benham's "purity" argument regarding a potential mate was undercut due to the divorce fact, the minister decided to pivot to asking whether it was OK for a grown man to date a 14-year-old if he received the parents' consent. And, yeah, Benham indicated he thought it was cool.
At that point, the hosts and Benham engaged in a heated back-and-forth over whether he thought it would be acceptable if the girl was ten years old but her parents consented to her dating an adult man. Eventually, after deflecting for a while, Benham said that would be inappropriate.
Listen to the clip above, via Right Wing Watch.
[image via screengrab]
—
Follow Justin Baragona on Twitter: @justinbaragona
Have a tip we should know? tips@mediaite.com